Mary J. Blige is set to interview Hilary Clinton and it looks emotional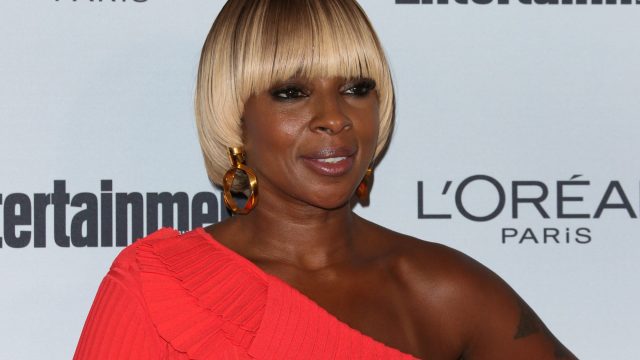 For years we've been totally in love with Mary J. Blige. We've loved the singer for as long as we can remember and feel that Mary really could sing the phonebook to us and we'd totally buy it.
The star is known for her emotional and heartfelt performances, like this iconic rendition of her 2002 hit "No More Drama" at the Grammys.
https://www.youtube.com/watch?v=_se5P3yioO4?feature=oembed
While we haven't had new music from Mary for what seems like an eternity, the star has been pretty busy, and has even recorded the new theme song for our fave chat show, The View.
Now, Mary J. Blige has turned her hand to something else.
Just after the presidential debate last night (September 26th), it was revealed that Mary J. Blige had sat down with Democratic presidential hopeful Hilary Clinton for an important interview.
Filmed in collaboration with AppleMusic, the interview, titled The 411 (after Mary's 1992 debut album), looks like it's going to be pretty emotional.
In the trailer released by Apple, Mary appears to be singing a song about race and what it means to be a black person living in America today. While initially things seem a little awkward, it quickly becomes heartfelt and heartbreaking.
In the song, Mary sings about how people have to act when stopped by police, referencing the current extremely tense climate involving race and policing in our country.
"If an officer stops you always be polite, and never ever run away. Promise momma you'll keep your hands inside," Mary sings to Hilary. "Is it a gun? Is it a knife? Is it a wallet? This is your life. It ain't no secret. It ain't no secret, no secret my friend. You can get killed for just living in your American skin."
She then goes on to ask Hilary: "I just want to know where do we go from here?"
The interview, which is set to premiere on September 30th on AppleMusic, looks like an important discussion on race relations in America, and promises to showcase Mary and Hilary as "you've never seen them before."
Following the first musical trailer, another clip from the interview was shared on Twitter, this time asking questions about Barak Obama.
"A lot of people in my community think that Obama was blocked in congress because he was black," Mary claims. "How are you going to do what he wasn't able to do?"
This isn't the first time that Mary J. Blige has teamed up with AppleMusic. When the music streaming service was first launched, Mary, along with Taraji P. Henson, and Kerry Washington filmed a bunch of commercials, including one that dealt with heartbreak.
You can catch Mary J. Blige's full interview with Hilary Clinton on AppleMusic on September 30th.
While you're waiting for what's sure to be an amazing and important interview, take a sec to fill out this election survey People magazine put together to see who Time Inc readers are voting for and why. (Bonus: Once you fill out the quick survey, you'll receive a discount code that will give you 20% off at the People Shop.)