Martha Stewart told us her Halloween decorating tips for millennials on a budget
As you move into a new apartment or your first home, you might feel overwhelmed by the prospect of decorating your new space. After all, moving and furnishing aren't cheap, so you might be on a pretty tight budget by the time the holidays roll around. The good news is, you can still make your home totally festive even if you're working with little more than a string of lights and last year's costume.
With Halloween right around the corner, HelloGiggles chatted with Martha Stewart about her top Halloween decorating ideas, and she told us exactly how to make your home appropriately spooky without spending a million bucks. At Stewart's Halloween bash with Cricut and Michaels in New York City on October 2nd, the domestic queen herself gave us some of her best tips for making your humble abode Halloween-friendly, and you'll be surprised by how affordable her recommendations are.
If you're looking to decorate the outside of your house to welcome all those trick-or-treaters, Stewart suggested that you "play very spooky music at your front door so it howls through the neighborhood," she said, joking that "it might get you arrested."
Stewart loves a spooky front porch and said, "If you have some scary sounds, they'll come to your house. And make your house all dark. Turn every light off."
Of course, you'll want the neighbors to know you're home, so Stewart recommended making paper bag luminaries, adding fake candles to line the walkway, and decorating with cheese cloth cut into festive shapes of your choosing. She added, "Don't use real candles, you don't want to burn down the neighborhood, [so I suggest] flameless candles. But you can make a very scary front entrance."
And of course, you can't go wrong with pumpkins—Stewart may have strong opinions about pumpkin spice everything, but she loves both fake and real pumpkins as chic and classic decorations in the fall. Whether you're painting or carving, Stewart loves getting creative with "bold designs."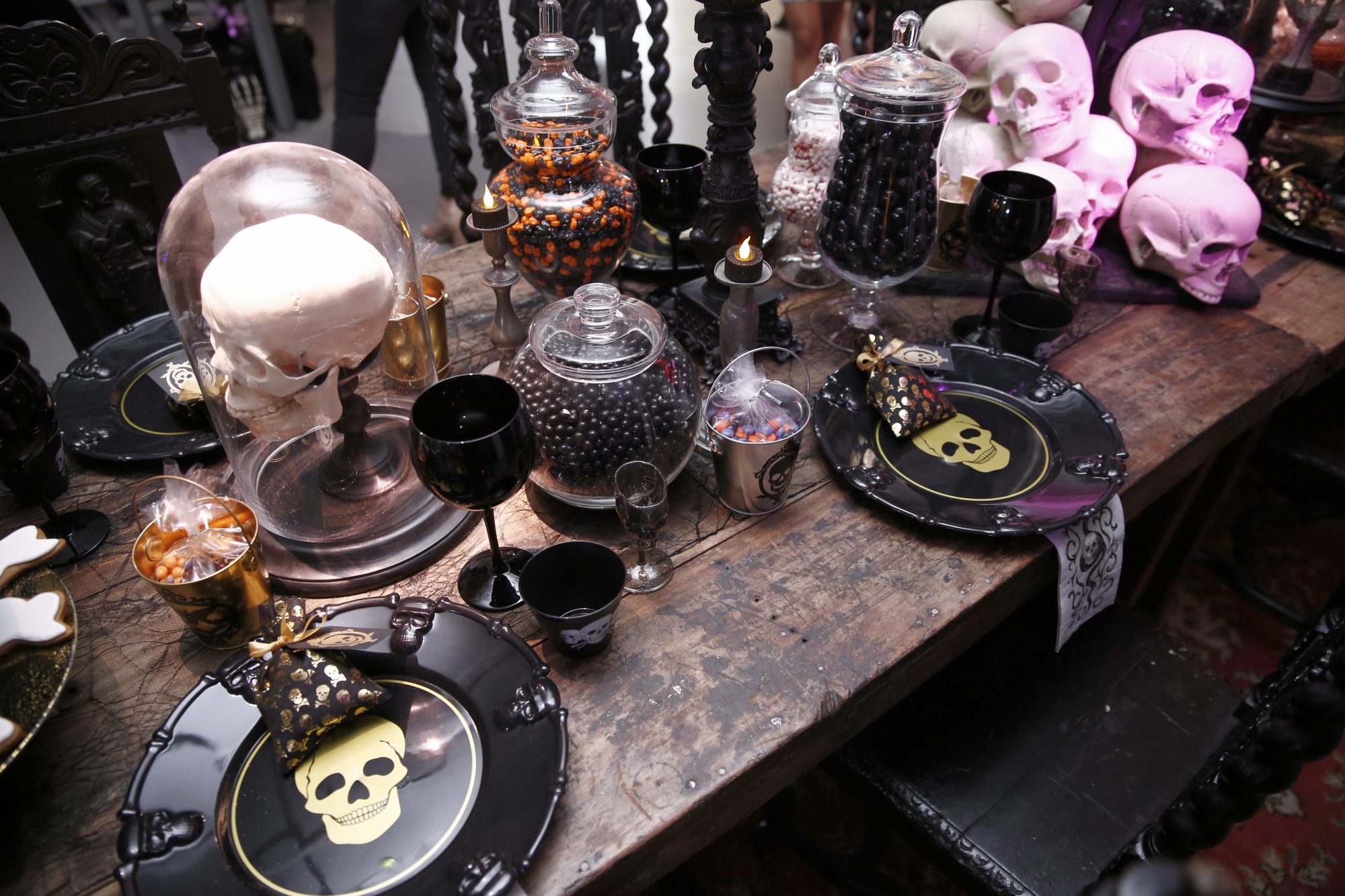 As for indoor decor, Stewart agrees that it's super easy to decorate with items you already have in your house, like adding beverage labels on glasses and liquor bottles on display, or glass jars filled with festive candies. She has an entire line of Halloween goodies at Michaels, and nothing costs more than $10.
As for people who aren't into Halloween, she said, "If they're over Halloween, they are so boring. I get dressed up every single year without fail." Her Halloween costumes are certainly legendary—in 2016, she won first prize at a "Prince on Prince" costume party, which she described on her website, writing, "I could have been Prince the artist, Richard Prince the painter, Prince anybody, or even prints. I chose Richard Prince's Park Avenue nurse."
"Themes make a party," she told reporters, adding that most of her elaborate costumes are not expensive. As long as you're willing to get a bit crafty, you can easily turn even a studio apartment into a Haunted Mansion for the month—no wallet scares necessary.