This unearthed Mark Ruffalo Clearasil ad is giving us life
Everyone has to start somewhere.
That's the thing you really need to remember when you watch this vintage Clearasil ad unearthed by the Internet angels over at The Tonight Show Starring Jimmy Fallon. Fallon always finds clever things to do with his guests, like having them act out plays written by elementary school kids or battle it out on the lip sync stage, but sometimes he doesn't need to dig deep into his seemingly-infinite well of creativity to find the perfect way to celebrate a guest. Sometimes, in fact, finding the perfect moment is just a Google search (or, in this case, possibly several Google searches and calls to Clearasil) away.
Mark Ruffalo stopped by The Tonight Show Thursday night to chat and the conversation came around to his early work. When Fallon asked him if his kids ever sit down and watch his early work, Ruffalo was quick to reveal that no, they don't. Now, before you start thinking, "What's wrong with Mark Ruffalo's kids? Mark Ruffalo movies are amazing and they should be watching all of them," take a second to read why his kids don't like watching dad's movies (but warning, it's adorably sweet):
"They said, 'We don't want to see you playing anyone else's father and we don't want to see you playing anyone else's husband,'" Ruffalo explained.
OK. That's a fair reason to avoid watching your famous dad's incredible movies. But leave it to Jimmy Fallon to find one old project that is Ruffalo Kid-friendly: An old Clearasil ad in which Ruffalo doesn't father or marry anyone. Mostly, he's just washing his face, being zit free and living his best life. Nothing uncomfortable there — unless maybe you're Ruffalo and have to sit on national television while the clip plays.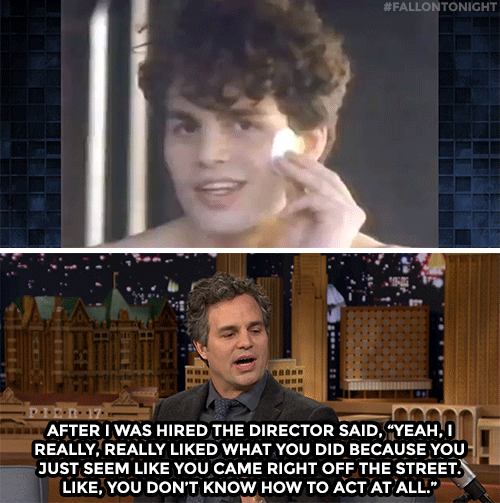 It's perfection. Pure perfection. And how did dreamy young Mark Ruffalo (and his flawless skin) get this gig? He vividly remembers the audition, and why the director hired him. "The director said, 'Yeah, I really, really like what you did because uh, it just seemed like you came right off the street, like you don't know how to act at all."
Well, remember, we all have to start somewhere. But in the meantime, we'll be watching Ruffalo's brilliant turn as "dreamy teen with clear skin" in this Clearasil ad over and over (and over).
https://www.youtube.com/watch?v=0EmKvKANWco?list=UU8-Th83bH_thdKZDJCrn88g
(Images via YouTube, Tumblr.)