Oh no, Mark Hamill just said he *doesn't* agree with Luke's choices in "The Last Jedi"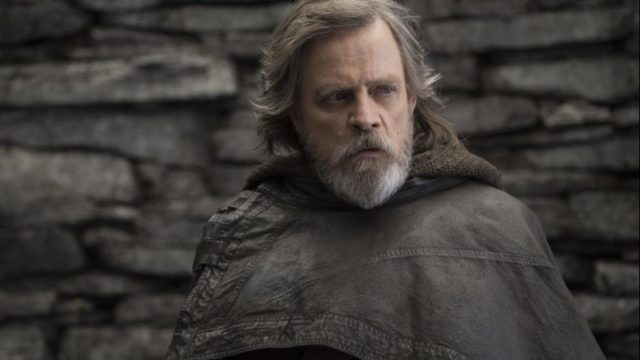 One of the major focuses in The Last Jedi is Luke Skywalker reconciling his guilt over nephew Kylo Ren turning to the Dark Side. After finally coming to terms with his self-perceived shortcomings as a mentor — and warning, because spoilers are about to kick in — the legendary Jedi (Mark Hamill) makes peace with the Force and a dramatic final showdown with Ren soon follows, which allows time for the trapped Resistance to make their escape from their Crait base.
While the film has been widely lauded and Rolling Stone's Peter Travers called Mark Hamill's work in The Last Jedi  "the performance of his career," it turns out Hamill himself wasn't exactly thrilled with Luke's storyline in the film. In a video posted by sensacine.com, Hamill admitted he and writer-director Rian Johnson had "fundamental differences" in how to approach Luke in the film.
For much of the film, Luke is a curmudgeonly (not unlike his late brother-in-law) exile on Ahch-To, grumpily telling Rey to essentially take the Falcon and the Force elsewhere, and clearly lacking in Star Wars' most fundamental outlook: hope.
Accordingly, Hamill revealed that he didn't think Luke would abandon his principles and treat Rey with such hostility.
"I said to Rian, I said 'Jedis don't give up.' I mean, even if he had a problem, he would maybe take a year to try and regroup, but if he made a mistake he would try and right that wrong, so right there, we had a fundamental difference, but, it's not my story anymore, Hamill said in the clip. "It's somebody else's story, and Rian needed me to be a certain way to make the ending effective.
Hamill added his perspective on the character is that of the George Lucas-era and not that of the current writers working on this latest trilogy.
He also said that Luke's new outlook was like playing an entirely new character,"I almost had to think of Luke as another character. Maybe he's Jake Skywalker[…]he's not my Luke Skywalker but I had to do what Rian wanted me to do because it serves the story well."
We totally understand how difficult it must have been for Hamill to see the character he's portrayed for 40 years go through such a dramatic change. But while Hamill said he's still working on accepting the character changes, he admitted that Johnson was the perfect person to direct the film.
"I still haven't accepted it completely, but it's only a movie, Hamill said. "I hope people like it. I hope they don't get upset and I came to really believe that Rian was the exact man that they needed for this job.
Regardless, we think Mark Hamill was outstanding in The Last Jedi.