Marion Cotillard's boyfriend just chimed in about all these affair rumors because it's seriously time we left them alone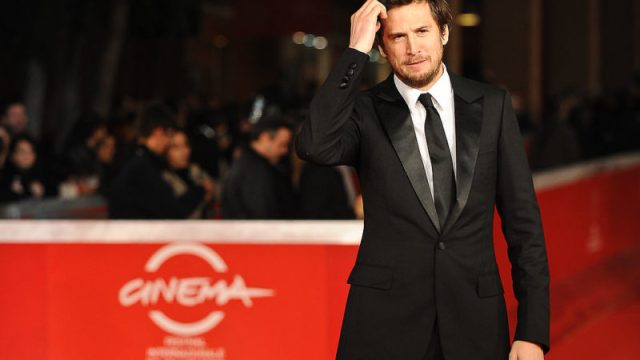 In the gossip circus that has been Angelina Jolie splitting up with Brad Pitt, a couple of unsettling rumors have emerged. There's the speculation that Pitt's ex-wife Jennifer Aniston had been gloating about the break-up (Which we very seriously doubt, you guys, Pitt and Aniston broke up 12 years ago and Aniston has since lived a super-cool life and remarried brilliant and handsome Leftovers star Justin Theroux, we're 100% sure Aniston is very focused on her awesome life and not celebrating her ex's misfortunes.)
Then there have been the rumors that the reason Brangelina split is because of Marion Cotillard, Pitt's co-star in the upcoming WWII drama Allies. Specifically, the rumor mill is churning out the 100% unsubstantiated theory that Brad and Marion had an affair on set, and this is what broke up Hollywood's number one power couple.
Cotillard herself already shut down this nonsense in an Instagram she posted this week, explaining that
"...many years ago, I met the man of my life, father of our son and of the baby we are expecting. He is my love, my best friend, the only one that I need," as well as making it clear that she very much wishes "...that Angelina and Brad, both whom I deeply respect, will find peace in this very tumultuous moment."
The "man of my life" whom Cotillard is referring to, her partner, French actor and film director Guillame Canet, posted an Instagram of his own on Friday, in which he also steps up to shut down the rumors.
"I don't usually make it a habit to comment on rumors made about us," Canet wrote in French on Instagram, accompanying a picture of a "Danger" road sign (Hat tip to Entertainment Tonight for translating for the many of us who don't speak, you know, French).
"I also don't usually talk about my private life until now. I have always protected attentively ... But the fury of the tabloids, the venal stupidity of some people calling themselves journalists, the haters who feel braver behind a keyboard, drive me to speak of the pride, love, respect and admiration I have for Marion staying as strong and intelligent in the face all these stupid and unfounded accusations," he continued.
"I think we're all living with much more important things at this moment and now it's time to move on and raise the bar a bit," Canet concluded. "Even if there's so much work for some, I want to be positive. And as Marion said so well I hope you get better and aspire to something in your life than constantly sending sh*t!"
We're so glad Canet stepped up to defend his wonderful partner, and we sincerely hope that these nasty and unfounded rumors skedaddle stat. Divorce, no matter who it's between, is never fun, and dragging totally un-involved people into the mix is even worse. Let's hope this is the last word on the matter and that Cotillard and Canet can go back to their quite lovely relationship.