Marion Cotillard had the coolest take on pregnancy fashion at the "Allied" premiere
Being a celebrity would be so glamorous don't you think? Well, Marion Cotillard had the coolest pregnancy style at her Allied premiere event on Wednesday, further proving that being an actress would be so chic and fun.
While Cotillard, who is expecting her first child with her partner of eight years, Guillaume Canet, has always been fashionable, we are loving her spin on pregnancy style this week. Instead of rocking a baby bump hugging gown, the French actress opted for a loose and lovely navy gown that is spectacular.
The 41-year-old actress gave maternity wear a red carpet twist, by dressing comfortable, but staying chic and on trend at the same time.
In fact, Cotillard wore a long, navy, sleeveless dress at the Allied fan event in Los Angeles this week, and looked both modern and timeless – if that's even possible. Our favorite part is the high neckline!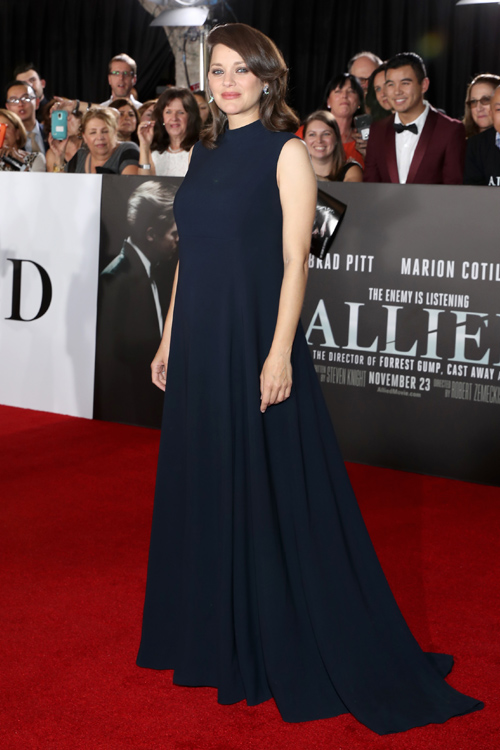 Her gown had a hint of old Hollywood to it and flowed right over her growing bump. Her hair seemed to be another nod to a time where stars wore gorgeous gowns and always had a curl in their hair. It was very reminiscent of the character that Cotillard is playing in Allied actually.
"It was like a little girl's dream to try on all those beautiful outfits," the actress said during the Q&A via Variety, about her 1940s on-screen costumes, which clearly match her red carpet elegance.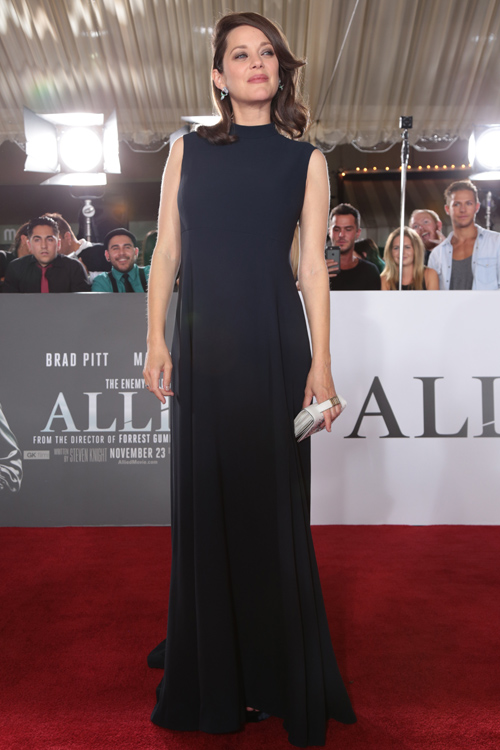 In Allied, Cotillard plays Marianne Beausejour, who is part of the French Resistance in North Africa in 1942, where she meets intelligence officer Max Vatan, played by Brad Pitt.
The two characters are eventually reunited in London and their relationship is threatened by war and rumors that one of them is not truly who they say they are.
Despite the fact that it's 2016, Cotillard did look like a 1940s starlet while posing on the red carpet.
She even stopped to pose with fans and gave us a better look at her beautiful, curled hairdo and flawless natural, makeup look.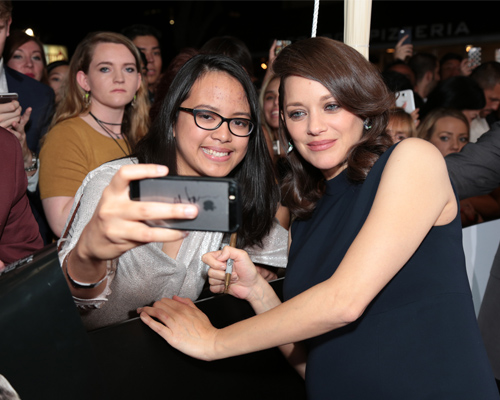 Cotillard looked like a glowing mother-to-be while standing alongside her co-star, Pitt, and the movie's producers and director in Westwood.
She did however standout amongst the men, because let's be honest, her gown and happy demeanor totally stole the show.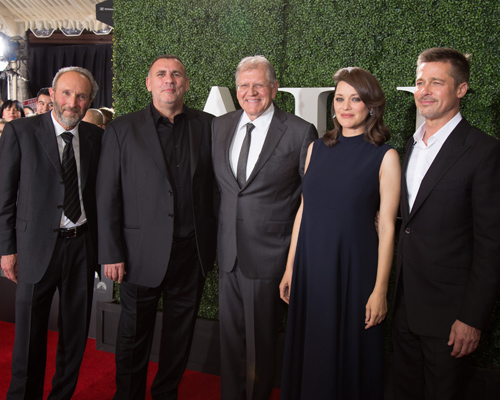 What do you think about Cotillard's pregnancy style? Is it too subtle or just the right amount of glam?
We're going with the just the right amount of glam, because she looked both comfortable — which is key while pregnant — and stunning with the color and cut choice!