Marion Cotillard is speaking up about the Brad Pitt and Angelina Jolie divorce, and our hearts are breaking again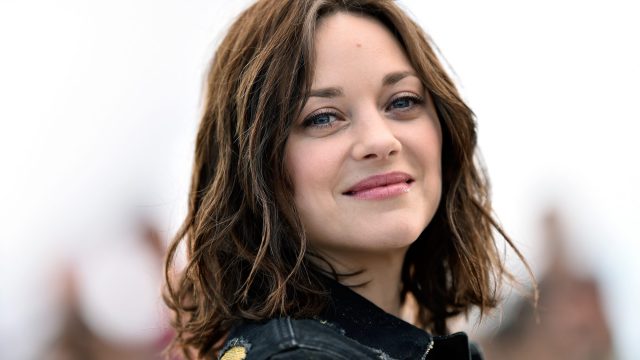 Our world was rocked on September 20th when we learned Angelina Jolie had filed papers to divorce her long-time partner, Brad Pitt. The two have been together for almost a decade — and married for two years — and on top of that, have six children together. Details about their split are still unclear, and we might never know the real and true reason behind their separation. Both, though, have made it clear that it's for the sake of their family, and we totally get and respect that.
But — of course there's a but — in the last 24 hours rumors have emerged that one of the reasons for the split was due to the fact that Brad was actually cheating on Angelina. YEAH, WE KNOW. These rumors are totally unconfirmed, and have little merit to them, but they've been making the rounds, as always happens whenever a high-profile Hollywood couple calls it quits. According to these ~rumors~, Brad got a little too cozy with one of his recent costars, Marion Cotillard, on the set of their new movie, and this is what ultimately drove him and Angelina apart.
Obviously, there's NO truth to this rumor at all, and Marion is NOT AT ALL PLEASED about being drawn into this very public uncoupling (Thanks for the word, Gwyneth!). Rather than let herself continue to be the topic of speculation, the Oscar winning actress took to her Instagram to SHUT ALL THE RUMORS DOWN.
She writes:
"This is going to be my first and only reaction to the whirlwind news that broke 24 hours ago and that I was swept up into. I am not used to commenting on things like this nor taking them seriously but as this situation is spiraling and affecting people I love, I have to speak up." "Firstly, many years ago, I met the man of my life, father of our son and of the baby we are expecting. He is my love, my best friend, the only one that I need." "Secondly to those who have indicated that I am devastated, I am very well thank you. This crafted conversation isn't distressing." "And to all the media and the haters who are quick to pass judgment, I sincerely wish you a swift recovery."
Oh snap. Marion does not have time for this gossip, and we totally applaud her for stepping up and speaking out. Can you even imagine being thrown into a public separation, when you don't actually have anything to do with it?
She ends her post with:
Finally, I do very much wish that Angelina and Brad, both whom I deeply respect, will find peace in this very tumultuous moment.
Echoing Marion, we're wishing the same for them. Lots of love to Brad and Angelina — and Marion, too.