Is marijuana legal in California? 6 things you should know, according to a legal expert on cannabis
As of January 1st, 2018, the great state of California has officially legalized the recreational use of marijuana for adults 21 and over. Snoop Dogg must be full of joy.
The law is a direct result of Proposition 64, which was on the November 2016 ballot and gave citizens the opportunity to vote for the legalization and taxation of marijuana. The legalization aims to cut down on the criminal convictions for harmless offenses and change public perception of marijuana, as many court decisions have unfairly targeted and separated communities of color.  Minorities, especially, have long faced harsh sentences and stigmas for sale and use of the drug, while their white counterparts are glorified for their use of marijuana to control anxiety and relieve physical pain. It is high time that public understanding of marijuana evolved, and we must combat the often racist war on drugs.
To get the complete scoop on the new rules and technicalities of Prop. 64, we spoke with Allison Margolin, an attorney who handles cannabis licensing and criminal defense.
On a state level, Margolin is overjoyed at the progress: "I am thrilled that we have now started licensing marijuana activities. States started criminalizing cannabis in the early 1900s…Since then the fight has gone on to decriminalize and legalize it. I cannot believe how long this has taken, but at the same time I am pleasantly surprised by the speed with which things have taken a turn for the better after the passage of Prop. 64," said the attorney.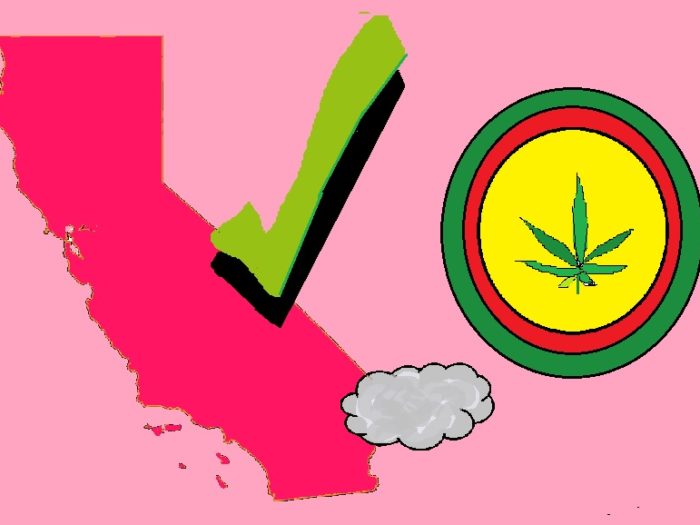 Margolin also feels this decision signifies hope for the future:
"Maybe we can start to heal the problems that have plagued our country since its inception. And we can help more people reach their potential...Because that kid that would have otherwise been a victim of the drug war could be the person who will save our planet."
California's bold progress will give people opportunities to operate a business and use marijuana without fear of arrest and will hopefully encourage policy focus on America's issues that are much larger than smoking weed.
Check out our full interview below.
HelloGiggles (HG): How does the actual implementation of Prop. 64 change the way Californians do business?
Allison Margolin (AM): California now has a totally new system for regulating commercial cannabis, under which everyone will need both a state and a local license in order to engage in any commercial cannabis activity, including medical and recreational cannabis. In the past, California's medical marijuana industry has been required to operate through informal, non-profit collectives, with very little guidance or oversight from the government. Everyone in the industry will have to adjust to the detailed rules and regulations that did not exist before.
HG: What will happen to people currently locked up in California jails for drug charges related to weed?
AM: Proposition 64 allowed most people in California with past felony convictions for marijuana to have their convictions reduced to misdemeanors or dismissed altogether. People locked up for marijuana crimes were eligible to be released under this law.
HG: So, what's legal and what's not?
AM: Under California law, all adults 21 years or older are allowed to possess up to one ounce of marijuana or 8 grams of concentrated cannabis, and to cultivate up to six plants at their home and possess the marijuana produced by these plants. Californians with a medical marijuana recommendation from a licensed doctor can possess as much marijuana as they need for personal medical use. Commercial marijuana activity (cultivation, manufacturing, distribution, and retail sales) is allowed only with proper licenses from both the local and state governments, and local governments are allowed to set their own policies (including total bans) on commercial cannabis.
HG: What does this mean for people who already have a medical marijuana card? Are their rights increased?
AM: People who already have a medical marijuana card will be eligible to pay reduced tax rates for marijuana purchases, and to possess more marijuana than the limits set for others.
HG: Can you legally carry marijuana with you?
AM: In California, it is no longer a crime for adults over 21 years to carry up to an ounce of marijuana or 8 grams of concentrated cannabis, and to grow up to six plants at their home — but businesses, employers, and property owners may still prohibit marijuana use or possession on their premises.
HG: What do you think this means for marijuana legalization/decriminalization across the U.S.?
AM: This is definitely part of a larger trend, with many states liberalizing their marijuana laws. Federal law still prohibits all marijuana. We believe the federal ban on marijuana will end at some point, but until that happens, it remains difficult for marijuana businesses to use banks or do any business across state lines.