Mariah Carey's Instagram Photoshop fail is attracting haters and we don't get what the big deal is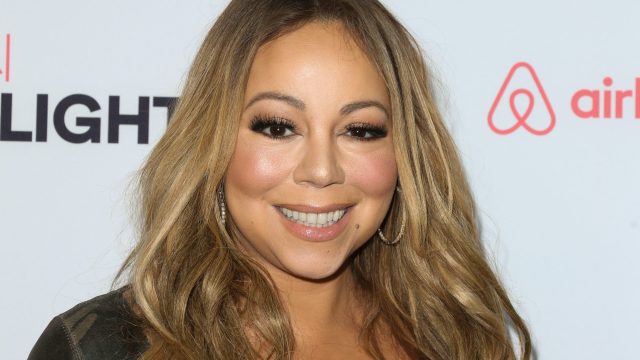 Chalk this one up to a bit of an "oops moment." Mariah Carey is getting criticism for a Photoshop fail on Instagram, but seriously, people are way overreacting. Carey posted a snap of herself captioned "#Festivating! #happythanksgiving ?" In the photo she is wearing distressed skinny jeans, a white long sleeve top with a laced up middle and holding a pie and a can of whipped cream. Between her outfit and the delicious looking Thanksgiving pie, the photo is typically Mariah, but what seems to be getting most fan's attention is the evidence of some funky editing.
Can you spot it?
https://www.instagram.com/p/BNN4JSIhoE0
"When you're caught photo editing," commented one fan.
"#Photoshopped," added another. People are so rough.
At first glance of the picture it's hard to tell where the potential editing fail is. But upon further examination a few eagle eyed folks were able to spot it; the mirror behind Carey appears to be distorted, as well as the cabinet behind her right leg. It's hard to tell if the fans are more angry about the fact that she photoshopped her post or the fact that she made a mistake.
"What happened to your left shoulder? And the hand? Lmao," someone wrote.
"Well at least try to do a decent photoshop work," remarked another grump.
But not to worry friends, Mimi's fans came to her rescue with the clapback. "Yeah this picture is for sure photoshopped but hey girl you got money you do what you want when you poppin'," one of her fans wrote.
Another fan was just as confused at the waste of energy as we are, writing,"Y'all are really that pressed?? Over a picture?? Really??"
Meanwhile, Mariah hasn't commented on the controversy. The post remains, even as the comments continue to pop up. Since Thursday, she has posted more pictures of her and her family enjoying their time on their Hawaiian vacation. We know that Mariah doesn't care about other people's opinions of her, because she's fabulous either way, darling.
And besides, it's not like she's the first person to edit their Instagram pics…that's why they have filters, right?