Mariah Carey's New Year's Eve performance turned into a hot mess — here's what happened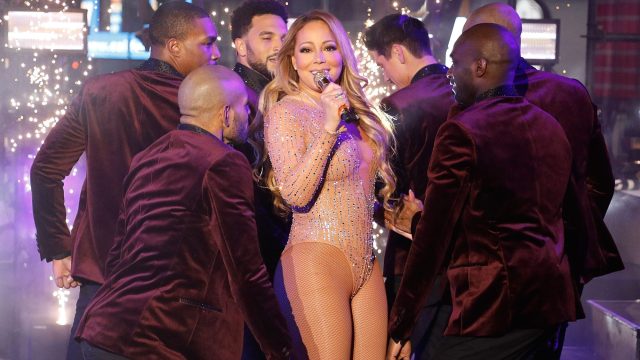 New Years Eve can be tough. But no one had a tougher New Year's Eve than Mariah Carey. In case you missed it, Mariah Carey had a total breakdown on New Year's Eve, refusing to sing for the crowd at Times Square and continuously complaining about technical malfunctions. During her hit song "Emotions," she walked around the stage and spoke to the audience about how there'd been no sound check, and that her monitors weren't on.
Finally she said, "we'll just sing," continuing, "it went to number one, and that's what it is." But then she doesn't sing. Instead, she rants again, "we're missing some of these vocals, but it is what it is."
The background track took over, and Mariah said, "Let the audience sing."
https://www.youtube.com/watch?v=Et_De5vO1_Y?feature=oembed
Then, on "We Belong Together," she stated that it was the album version, and she'd just sing along to it. And that's exactly what she did, essentially performing karaoke of herself. It got uncomfortable.
The entire meltdown was captured on national television. As one of the top-selling recording artists of all time, Mariah was headlining Dick Clark's New Year's Rockin' Eve with Ryan Seacrest, one of the biggest, most hyped televised events in music.
In 2005, Mariah had been the first artist to ever perform live at the NYE Times Square event. She sang "It's Like That," "Shake It Off," and "We Belong Together." She rocked it, in typical Diva Mariah style.
https://www.youtube.com/watch?v=wjaUFwwcfUQ?feature=oembed
Eleven years later, last night happened. Sources told Billboard that Mariah's in-ear monitor wasn't working correctly, and that her rehearsal schedule had been very limited. Maybe due to her busy reality TV schedule.
After the performance, Carey herself tweeted an exasperated but good humored message.
The Twittersphere had some great responses of its own.
Her improv skills are top-notch.
false
Perfect ending to 2016.
Everyone sings Mariah but Mariah.
The whole fiasco makes the following post from last week by comedian Ben Simon all the more relevant.
Hear you next year, Mariah.