Mariah Carey's new guy Bryan Tanaka opened up about how he feels about her, and, adorable alert!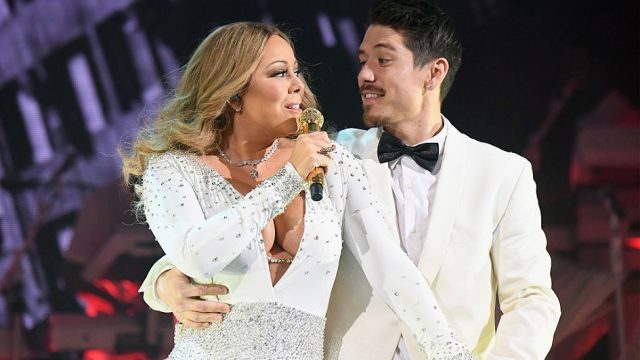 So, it was a bit up in the air as to whether or not these two were friends, or — y'know — more than friends. But it's officially official: Bryan Tanaka and Mariah Carey are dating, and he thinks the world of her. Tanaka opened up to E! News, and admitted that he's been crushing on Carey for quite some time.
In fact, with his choice of words, he didn't really make it a big secret.
"I've always had a thing for Mariah. I love her so much," Tanaka, her backup dancer, noted during the premiere party for Carey's new reality show Mariah's World.
Since it looks like Carey's break with ex-fiancé James Packer was heavily featured on the show, it's obvious as to why these two probably wanted to keep their new love under wraps until after the show premiered.
Tanaka even teased that you can probably watch the romance unfold during the run of the series.
"Just make sure you tune in to the show, and you'll see kind of how everything happens," Tanaka noted.
(If this is a romance put together solely for the show, we're going to be frustrated — these two are incredibly cute together.)
One thing's obvious — these two are definitely, at the very least, amazing friends. And hey, that's typically the base of any good relationship, right?
When asked, Tanaka only had sweet things to say about his favorite lady.
"Something connected with us back in the day, and there was just a mutual admiration. She saw something in me that I actually didn't recognize at first, from that it was over, Tanaka said. "It was set in history that we were gonna be connected some way, some how."
This guy's got a way with words — not only are we melting on the inside,  but we hope this connection lasts forever.