How to Recreate Mariah Carey's "All I Want for Christmas is You" Look On the Cheap
You can't get the song out of your head, now you can get the look too.
Welp, she did it again. As expected, it has been announced that the self-proclaimed Queen of Christmas Mariah Carey, has yet again hit #1 on the Billboard top 100 charts for her hit "All I Want for Christmas is You"—not bad for a song that's nearly 30-years old. It's also racked up over a billion views on YouTube and is the most streamed Christmas song to-date.
But while the catchy tune is being streamed in households everywhere, people are upping the ante and getting even more festive by emulating the pop diva's iconic holiday looks.
In fact, searches for "Christmas outfit" are at an all-time high worldwide this December, with a 1,170 per cent increase, says Nasty Gal, and All We Want for our Christmas outfit, is MC's.
But, we're not talking about the fur trimmed Santa-esque catsuit or mini dress she sports in newer videos or the album cover. While those are fun for a holiday party, they aren't really practical to wear elsewhere, and we want to channel her 24/7 because no one does glam, like Mariah does. IYKYK. 
RELATED: 5 Signs You Can Officially Start Celebrating the Holidays Now
In the original 1993 video, a youthful Mariah is pictured at a snowy amusement park, sleigh riding and galavanting with Santa Clause while bundled up in a red cinched ski jacket and matching pants tucked into a pair of chunky white boots.
She accessorizes with white gloves and a cozy red-knitted Fair Isle hat. It's the perfect snow-bunny look for any diva wannabe, and you can score the look on any budget. 
You can take this $67 red puffer jacket from Nasty Girl, and cinch it with a belt, and pair with these matching $48 'vintage red' ski pants from ArcticX. Or, go all-in with a retro one-piece ski suit from Amazon for $40, complete with Mariah's signature fur trim. Don't forget the white boots for under $40 — not exactly snow-proof, but let's be honest, this about fashion not function anyway.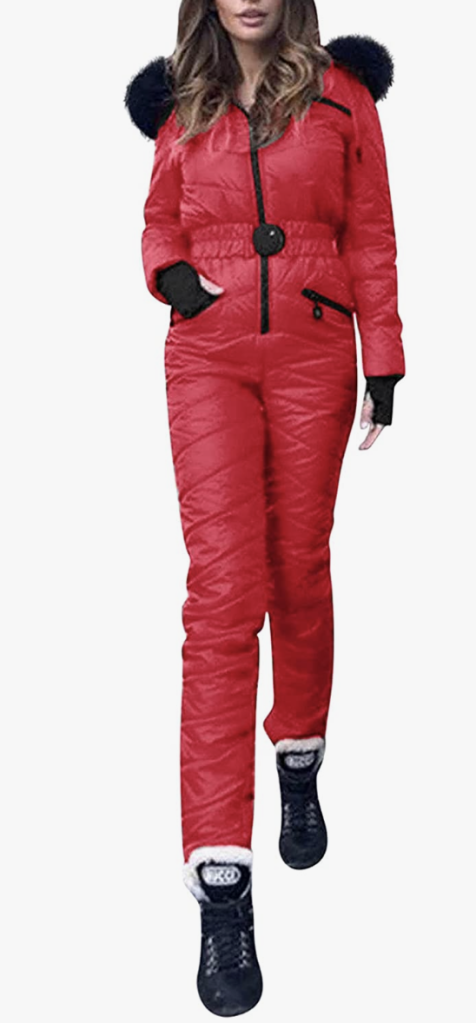 It's no surprise that people want to recreate a look from the '90s, after all, everything old is new again and us millennials are all about that nostalgia. And this one is a win-win, because it'll also get you through the long, cold winter in style.
Jené Luciani Sena is an accredited journalist and internationally-renowned bestselling author, regularly seen on national TV outlets such as Access Daily, Today and Dr Oz. Touted as one of Woman's World Magazine's "Ultimate Experts," she's a TEDTalk speaker and a busy Mom of 4.
Read more