Mariah Carey Wants to be a "Cool Mom" in the New 'Mean Girls' Movie
Tina Fey, make this happen.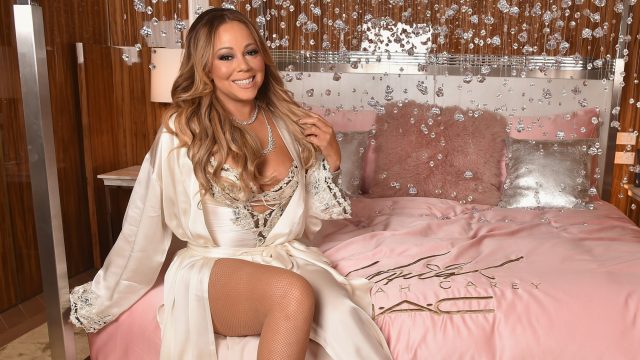 You might think you're the biggest Mean Girls fan, but honestly, Mariah Carey might be a bigger fan than all of us combined. The diva's Mean Girls obsession has been well-documented over the years, including celebrating October 3rd (aka Mean Girls Day) on social media, posing for a photo with Gretchen Wieners (aka Lacey Chabert)—in pink, on a Wednesday, of course —and even having a surprise Mean Girls-themed birthday party in 2005. Now, in a new video for Billboard's Quizzed series, Carey was put to the pop culture test by none other than the film's writer herself, Tina Fey.
Fey quizzed Carey on all sorts of Mean Girls trivia, and she slayed it, getting just about every answer right (in a Regina George-inspired necklace, to boot!). But there was one moment, in particular, that has us screaming, "that is so fetch."
The pop icon hinted to Fey that she wants to star in the upcoming Mean Girls musical movie, a film adaptation of the Broadway show that was adapted from the 2004 film, which was itself loosely based on the 2002 book series Queen Bees and Wannabes.
Yes, it's confusing, but we're here for any and all reasons to wear pink on Wednesdays—especially if Mariah Carey herself is involved.
Here's the 411: Carey told Fey she was disappointed that the Plastics didn't do their annual holiday talent show dance to "All I Want for Christmas Is You," choosing "Jingle Bell Rock" instead.
"We're gonna make another movie of it, so if you want to license us that song for the movie and also be in the movie, just say nothing now and we'll consider it legally binding," Fey replied, adding, "Just laugh and it'll be legally binding."
Then, Carey dropped this bombshell: "I definitely want to be in it as well!" she said. "Maybe I can be friends with Amy Poehler as, like, her other friend that wears sweatsuits."
Mariah Carey as a pink Juicy sweatsuit-wearing cool mom serving mocktails at happy hour? We need this. We deserve this. Please make this happen, Tina and Mariah. All we want for Christmas is this.