Mariah Carey's manager has spoken about *that* New Year's Eve performance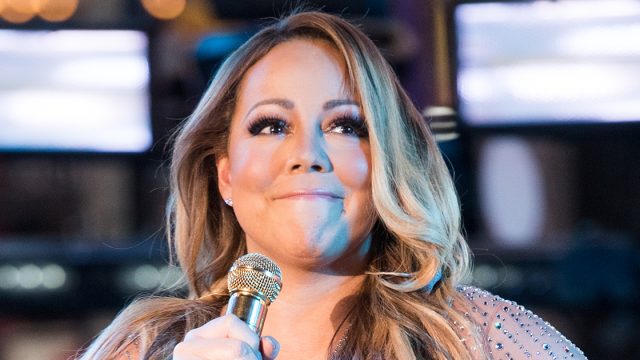 Following a disastrous live performance on Dick Clark's New Year's Rockin' Eve with Ryan Seacrest, Mariah Carey's manager has spoken about what they said happened during the event.
In case you missed it, Mariah Carey performed in Times Square on NYE as part of Dick Clark's New Year's Rockin' Eve telethon and things didn't exactly go as planned. According to reports, the singer's in-ear headpiece wasn't working, with sources claiming that Mariah had not been present during soundcheck. Meanwhile on stage, the singer could be seen to stop singing and she expressed her frustrations to the audience. There were also accusations that she had been lip-syncing, too.
https://www.youtube.com/watch?v=Et_De5vO1_Y?feature=oembed
Following the disastrous performance, Mariah Carey's team and the production company behind the Dick Clark's New Year's Rockin' Eve butted heads, with BWR-PR's Nicole Perna, a rep for Carey, telling Billboard that the production company had "set [Mariah] up to fail."
Dismissing claims that Mariah hadn't attended soundcheck, Bulochnikov, who features heavily in the singer's reality show Mariah's World, said that during rehearsals Mariah had complained that the sound in her in-ear was coming out "choppy."
Detailing how right up until her performance Mariah couldn't hear herself in the in-ears, her manager said that they were reportedly told how things would be sorted by time the singer hit the stage.
"So, right when it goes live, she can't hear anything," Bulochnikov said. "The ears are dead. They're dead. So she pulls them out of the ear because if the artist keeps them in their ears then all she hears is silence. Once she pulled them off her ear she was hoping to hear her music, but because of the circumstances — there's noise from Times Square and the music is reverberating from the buildings — all she hears is chaos. She can't hear her music. It's a madhouse. At the point, there's no way to recover."
Bulochnikov claims that she had a conversation with one of the producers who not only confirmed that Mariah's in-ears weren't working, but who also asked why the singer couldn't "wing it." Indeed, she alleges that they wanted to do a joint statement, to which she told them to "go F— themselves," and she accused Dick Clark Productions of stitching Mariah up to get a "viral" moment.
Stella Bulochnikov also addressed accusations that Mariah was lip-syncing, too.
"Lip-syncing is when people don't sing at all. This is what people should understand. Every artist sings to a track, especially in circumstances like that when it's really loud and impossible to have a great musical performance," she said. "You're not singing at the Philharmonic. Every artist who goes out there sings to tracks. What Mariah was doing was singing to tracks. What you heard on the second song, 'Emotions,' was her going to sing it live. That's why you heard no vocals. It's a song she sings every other day."
https://www.youtube.com/watch?v=NrJEFrth27Q?feature=oembed
Ultimately, Bulochnikov said that it was "disgusting" that Dick Clark Productions wouldn't formally apologize to the singer. However, she did say that Mariah was just shaking the whole thing off and ignoring the drama.
Responding to all accusations, Dick Clark Productions rejected any claims stating that the concept that they "would ever intentionally compromise the success of any artist is defamatory, outrageous and frankly absurd." 
"We want to be clear that we have the utmost respect for Ms. Carey as an artist and acknowledge her tremendous accomplishments in the industry," they said.