Mariah Carey joined James Corden for an especially festive Carpool Karaoke and there are LOADS of famous surprises
Just in time for the holiday period, Mariah Carey has joined James Corden for a specially festive Carpool Karaoke and there are more special cameos than we can count.
We've been treated to a whole host of Carpool Karaokes recently. Not only did Bruno Mars bring the funk, but Madonna twerked in a moving vehicle, Britney talked about tickle fetishes, and Lady Gaga performed a rousing version of "Million Reason."
Of course, Mariah Carey has joined The Late Late Show's James Corden in his musical car before. In fact, the Corden has spoken before about how it was Carey that made the whole popular segment possible.
https://www.youtube.com/watch?v=z2iwQoKD6mg?feature=oembed
Now Mariah Carey has joined James Corden for a special Christmassy Carpool Karaoke and it's *really* got us in the holiday mood.
Things start off simply, with Corden thanking Carey for helping got shopping for gifts. This being Carpool Karaoke, the pair soon burst into song and there are no prizes for guessing which song they perform: Carey's iconic "All I Want For Christmas Is You."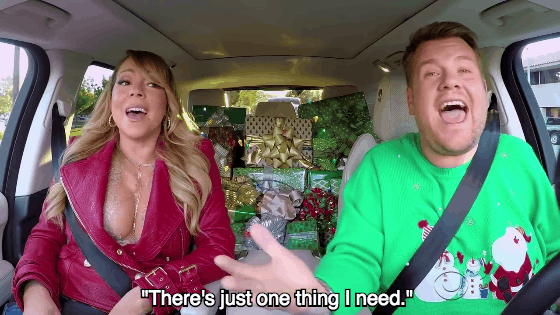 However, Mariah isn't the only guest to appear in this special festive version of the segment. We quickly cut to James singing Carey's holiday anthem with the likes of Adele, Demi Lovato and Nick Jonas, Lady Gaga, Selena Gomez, The Red Hot Chilli Peppers, Elton John, Gwen Stefani, and Chris Martin from Coldplay.
Watch the all star, specially festive version of Carpool Karaoke below.
https://www.youtube.com/watch?v=JKJExBXRorA?feature=oembed
Given that most of these Carpool Karaokes were filmed throughout the year, we love that they had always planned for a holiday version of the segment to happen, and it's made extra special by Mariah and her red and gold shiny Christmas outfit (not to mention James Corden's hideous yet endearing Christmas jumper).
It seems that this is probably going to be the last Carpool Karaoke of the year, too. However, next year we could be seeing more and more of the popular segment, as it was revealed earlier this year that Carpool Karaoke would be getting it's own show on Apple Music.
Until then, we're going to be singing Mariah Carey's "All I Want For Christmas Is You" until next weekend.