It's officially Christmas! Mariah Carey just sang "All I Want for Christmas is You" at Disneyland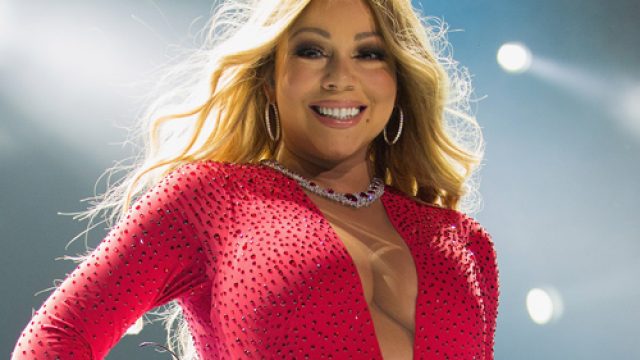 Merry Christmas indeed! The fabulous Mariah Carey just sang, "All I Want for Christmas is You" and therefore it's officially Christmas season in our books.
The 46-year-old singer is pretty much the unofficial ambassador of the holiday season and she brought Christmas early this year by performing her iconic holiday song at Disneyland this week and of course she nailed it.
Carey proved why she is the queen of Christmas by belting her holiday anthem, "All I Want for Christmas is You" in front of the It's a Small World ride, complete with a glitter-embellished ensemble, which was spot-on for the occasion.
Disneyland's famous ride was also decked out for the holiday season — with so many lights it almost hurts our eyes, almost — and despite the fact that it's only November and we haven't even had our turkey for Thanksgiving yet, we're totally okay with this rush to Christmas involving the "We Belong Together" singer.
In fact, her performance makes us want to throw on our ugly Christmas sweater right now, make hot cocoa and dance around to the song all weekend long. Who's with us?
https://www.youtube.com/watch?v=y3ETANA40FI?feature=oembed
If this video isn't enough to curb your Carey Christmas obsession, fear not, the hi-res and TV-worthy performance will air on ABC, according to Headline Planet, as a part of "The Wonderful World of Disney: Magical Holiday Celebration" on Thanksgiving.
So yes, you can watch it again from the luxury of your house after your pants are feeling a little tight due to an overabundance of turkey and cranberry eating next week.
Make sure to set your DVR or watch in real-time beginning at 8 p.m. on Thursday night.
Other acts include, Jojo, One Republic, Kelly Clarkson, Trisha Yearwood with Garth Brooks and many more.
Plus, there will be an encore viewing of Carey's performance as well as part of ABC's other holiday special, "The Disney Parks' Magical Christmas Celebration," on Christmas morning beginning at 10 a.m.