A love letter to Mariah Carey's "Honey" music video on its 20th anniversary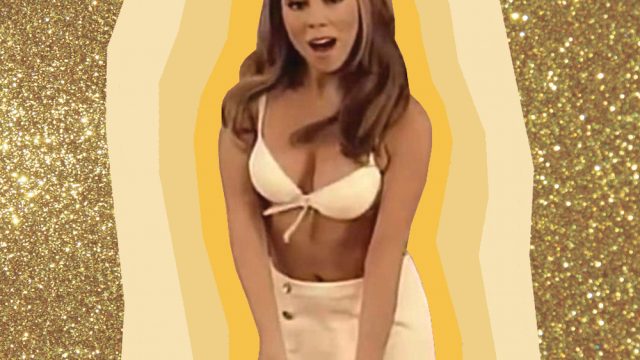 Throughout her multi-decade career, Mariah Carey's music videos have been as legendary as her songs themselves. How could we forget Mariah's battle with alter ego Bianca in 1998's "Heartbreaker" or her iconic role as an Eminem lookalike (Feminem?) stalking herself in 2009's "Obsessed?" Then there was the music video for "Honey," the first single from her album Butterfly, which was released 20 years ago. "Honey," produced by Puff Daddy, Stevie J, and Q-Tip, became the singer's third single to debut at the top of the Billboard Hot 100, and it went on to nab two Grammy nominations.
The video, shot in Puerto Rico and directed by Paul Hunter, was the first to be filmed since Mariah's divorce with music industry bigwig Tommy Mottola. Imagine playing the role of a badass secret agent on a beautiful island, a dreamlike scenario for someone fresh out of a relationship. This was How Mariah Got Her Groove Back.
The video opens up with Mariah, aka Agent M being held hostage in a mansion and taunted by an enemy group called D.U.N.C.E.
She escapes by jumping into a pool, then manages to change into a sleek bodysuit before leading her captors on a jet ski chase. As we know, the water goddess Mariah loves to swim (usually in evening gowns), but here she takes it up a notch and takes a dip whilst wearing Gucci heels.
According to Mariah Carey Revisited: The Unauthorized Biography, Mariah said this about the pool scene in "Honey":
"It was a grueling process; I'm not going to say it was easy. I got up at 3 A.M. every day, and worked until 9 in the morning the next day – for four hours in a row, swimming in my Gucci pumps! I can't say that I really jumped off the roof, but [I did] dive into the pool. But I did wear and swim in those pumps, and I was not happy.
ICONIC! These were the heels, btw:
https://www.instagram.com/p/BCBZ3cgSf6P
In the next scene, Agent M then boards a big ship and finds time to participate in a synchronized dance with a group of sexy sailors.
Let's show some love to Mariah's I Dream of Jeannie-esque high ponytail and all-white skirt set. This lewk would be totally hot nowadays, wouldn't it?
Just before the sinister D.U.N.C.E. catches up to her, Agent M ditches the ship and gets to a beach, where we last see her frolicking with a hunk. There's also a cute dog. (Who is THAT dog hunk?)
https://www.youtube.com/watch?v=w3KOowB4k_k?feature=oembed
Watch the video for "Honey" in its entirety above. Honestly, Mariah should have played a female James Bond after her performance in this masterpiece. It's not too late! What say you, Mimi? "Honey" por vida!