Mariah Carey just gave us all we want for Christmas by releasing a brand-new music video of her eternal holiday hit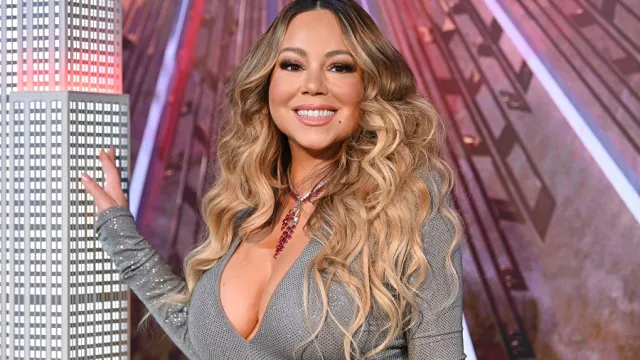 The official signifier of the Christmas season isn't the first snowfall or the sudden prominence of sparkly lights. It's not the incessant Love Actually airings on TV, either. No, you know Christmas is almost here when Mariah Carey's iconic holiday hit "All I Want For Christmas Is You" starts playing everywhere.
This year was no exception. In fact, for the first time since the song was released, it nabbed the top spot at the Billboard Top 100. Now in its 25th year, Pitchfork notes that it's the longest period between the initial release and rising to No. 1. It's been a long time coming!
In celebration of its silver anniversary, Carey has debuted a brand new music video for the song. It's quite a contrast from the original video, thanks to the modern elements sprinkled all throughout. We must say, it's a visual delight, and we're feeling all kinds of festive.
"We wanted to make a modern classic," Carey said at a live fan Q&A prior to the video release. "It's kind of the opposite of the original video… This is more of a production."
And indeed it is! The music video features a little girl entering a sort of winter wonderland, with Carey serenading her. The singer wears a Santa costume, like in the original video, and there are candy cane and nutcracker-clad dancers bopping all around. Even Carey's own kids, Roc and Roe, join in toward the end, hitting the "whoa-ohs" and dancing along.
See all of the festive holiday magic for yourself:
As if the video weren't enough of a holiday treat already, Mariah Carey also partnered with Instagram and launched an "All I Want For Christmas Is You"-inspired filter. All you have to do is fire up the app, open the camera on selfie mode, and click the snowflake icon. You'll immediately see falling snowflakes and hear the classic song playing in the background.
At this point, there's no doubt that "All I Want For Christmas Is You" is as synonymous with Christmas as eggnog and mistletoe. Thanks for the Christmas present, Mariah! Now we're really feeling the Christmas spirit.