Margot Robbie is our new favorite femme fatale in the trailer for "Terminal"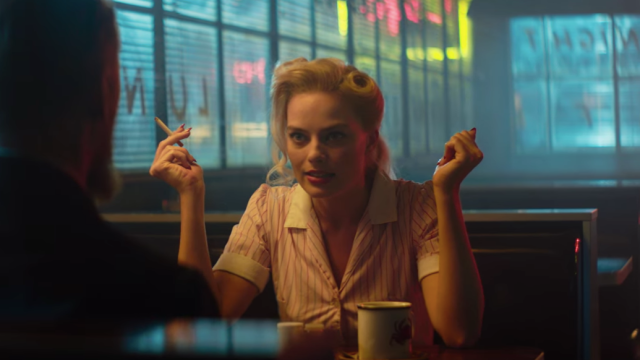 For someone who has only achieved mainstream success in recent years, Margot Robbie has already cemented her status as a cinematic chameleon. She first shot to fame with The Wolf of Wall Street, in which she played Naomi, the wily, no-nonsense wife of Leonardo DiCaprio's Jordan Belfort. We've also witnessed her nail the portrayal of loony supervillain Harley Quinn in Suicide Squad. And of course, how could anyone forget her remarkable depiction of figure skater Tonya Harding in I, Tonya — a performance so impressive, she snagged an Academy Award nomination?
In her latest movie project, Terminal, Robbie transforms herself once again to step into a role that is eerily similar to Harley Quinn. The film's first trailer introduces Robbie's femme fatale character, Annie, an assassin with an "unquenchable bloodlust for darkness." She navigates a city littered with neon signs and slips in and out of different personas — from a diner waitress to a stripper to a nurse to a mischievous killer. It's unclear what her motives are, and how she's related to the rest of the rather skeevy characters, but one thing's for sure: Annie is 100% BONKERS.
SERIOUSLY. The trailer opens with Annie dressed as a dominatrix, torturing a man in handcuffs and seemingly enjoying the process. If that's an indication of how the rest of the film will play out, then we're so here for it.
According to the movie's plot summary on IMDb, "Terminal follows the twisting tales of two assassins carrying out a sinister mission, a teacher battling a fatal illness, an enigmatic janitor and a curious waitress leading a dangerous double life.  Murderous consequences unravel in the dead of night as their lives all intertwine at the hands of a mysterious criminal mastermind hell-bent on revenge."
https://www.youtube.com/watch?v=18RqtFuaNe8?feature=oembed
Rounding out the cast are Simon Pegg, Dexter Fletcher, Mike Myers, and Max Irons. The film was written and directed by Vaughn Stein, with Margot Robbie serving as a producer alongside her husband, Tom Ackerley.
Terminal opens in theaters on May 11th.