Margot Robbie hilariously fact checked Jared Leto during her "Saturday Night Live" monologue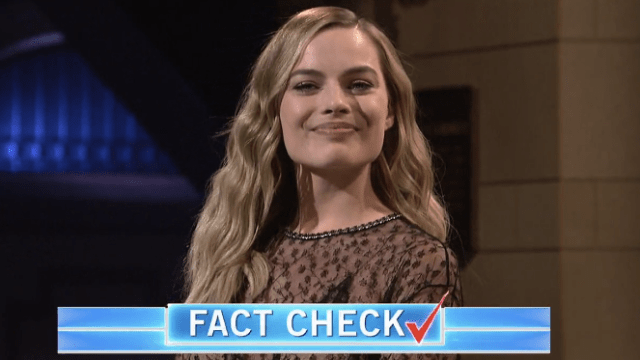 Margot Robbie hosted the premiere of the 42nd season of Saturday Night Live this weekend, and she showed that she can be charming and hilarious doing live comedy – which can be a lot tougher to nail than film. When she wasn't impersonating Ivanka Trump in a Family Feud sketch, she was killing it in her opening monologue.
Robbie began her monologue by saying it was fun to be in America for the election (truly a phrase you'd only hear from a citizen of a country other than the U.S.). She then alluded to the frequency with which politicians lie, alluding to the numerous fact-checkers during last week's first presidential debate.
Said Robbie, "I mean, this is how you guys really do it. It's nuts! I mean everybody just lies. It's crazy. Which is why tonight I am going to be 100% honest with you. And just in case I ever do lie, I will be fact-checking my own monologue. But don't worry. I never lie. Then, the actress waited a beat before turning to another camera and revealing, "I lie all the time. My name isn't even Margot Robbie; it's Margot Robert.
Robbie then mentioned her film Suicide Squad, which smashed box office records and exceeded expectations to become one of the summer's most successful films.
Talking about the film, Robbie brought up Jared Leto, who played the Joker to her Harley Quinn. "Jared Leto stayed in character like the whole time, which was so, so fun," she shared.