Margot Robbie went full-on Rosie the Riveter in this double denim outfit
Oh denim, let us count the ways we love thee. With a T-shirt and jeans. With some heels and a metallic top. As a mini skirt or short-shorts. Even as an entire outfit! Because sometimes, denim deserves to be the center of attention. For example, Margot Robbie's double denim look is Rosie the Riveter chic, reminding us that powerful feminist icons and denim are a match made in heaven. After all, jeans were created for the working class, for miners to wear because of its durable nature. And when Rosie made her debut, and made her denim shirt famous, she did so for all the women working in factories and shipyards during WWII.
Now, Margot Robbie is channeling Rosie in her own denim look, reminding us that "we can do it" no matter what — especially when we're wearing a fierce denim look.
Margot was seen wearing a full Calvin Klein denim ensemble while strolling through New York City, and now we're even more inspired to bring denim into our winter wardrobe. The actress wore a collared denim shirt and matching jeans, both in a dark wash with contrasting red stitching. She paired this outfit with a black turtleneck, black mules, and a wash of bright coral lipstick, bringing out the deep indigo color of the denim even more.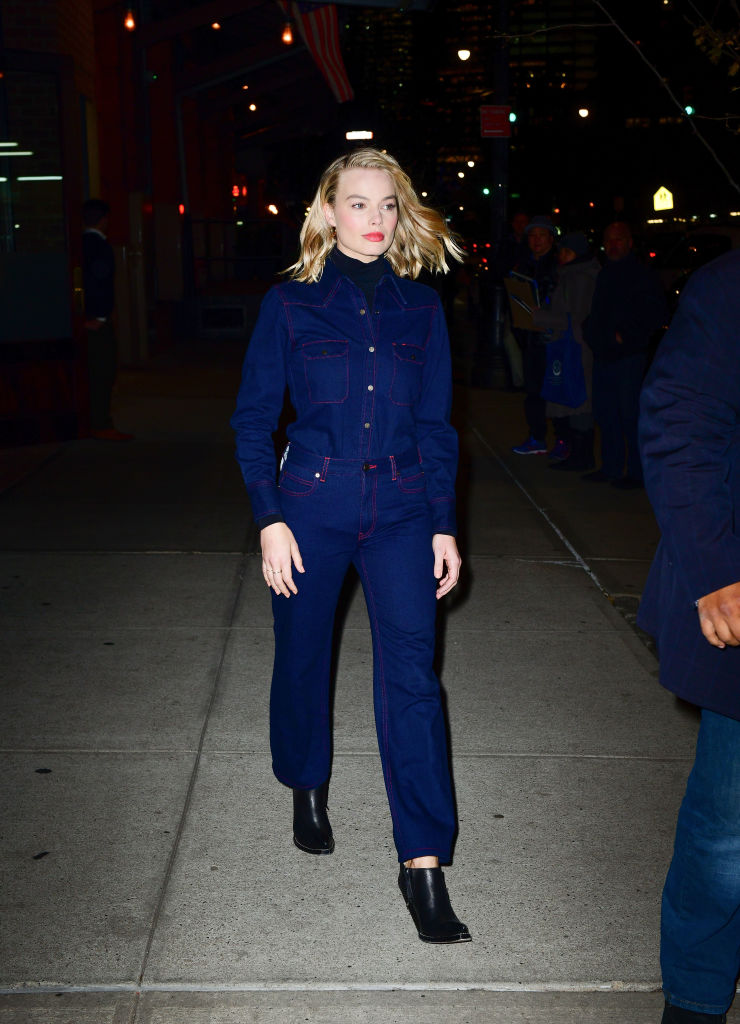 If you've been uninspired with your fall or winter wardrobe, maybe try some denim! We love Margot's deep shade and the idea of layering pieces like a turtleneck under a button-up. You can even pair this outfit with a red bandana to really channel Rosie the Riveter.
Swipe on some red or pink lipstick to channel Rosie — or Margot! — and you'll be feeling like a denim doll in no time.