Margot Robbie had an insane workout regimen for "Suicide Squad"
We've reported on a variety of celeb workouts in the past, from Blake Lively's surprisingly doable The Shallows fitness routine to Daisy Ridley's ~SUPER~ intense workouts to Taylor Swift's challenging dance workout, but our newest fave fashion icon Margot Robbie's workout regimen for her role in Suicide Squad just might be the craziest yet.
As we all know by now, the beautiful and mega-talented Robbie snagged the role of infamous DC Comics villainess Harley Quinn in the newest DC film. As with most superheroes/villains in comic lore, there are many, many incarnations of the Joker's accomplice/lover/right-hand gal across decades of comic book history and various adaptations. For David Ayer's jam-packed superhero film, they went for a more, um, *minimalist* look when it came to Harley's costuming.
Specifically, Harley is trotting around and kicking butt in teeny tiny, super tight shorts that are basically underwear for the majority of the film, and at one point nonchalantly changes into her outfit in front of a huge group of dudes. As expected, Robbie looked absolutely ~fab~ in the costume.
Robbie's trainer Andie Hecker spoke with PEOPLE Magazine about the crazy intense regimen that she used in the months leading up to the movie's filming, to slay that barely-there shorts look. And it's absolutely bonkers, y'all.
https://www.instagram.com/p/l-blq2BF3t
According to Hecker (who is Robbie's regular trainer), she worked Robbie out for "for three hours a day most days of the week for three weeks while the movie was shooting" as opposed to their typical four to five days per week one-hour sessions. In an earlier July interview, Robbie told Collider that she'd been training for the role since November 2015. Ouch. My whole body hurts just thinking about that.
Hecker used a combo of Pilates, ballet and other fitness methods to sculpt and tone Robbie's body without bulking her up, specifically "non-bulking cardio such as jump rope, rebounder and ballet jumps." Focusing on toning Robbie's butt for its starring role, Hecker opted for "ballet-inspired moves with added weights." You know. Casual stuff.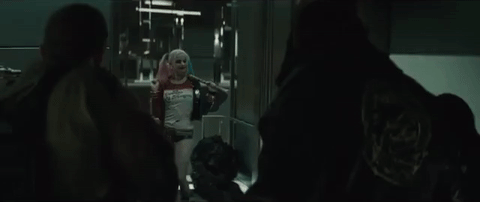 "We did a lot of heavy-weighted, low reps of arabesque pulls hooked up to resistance pulleys, as well as arabesque lifts with heavy ankle weights in order to build and lift the butt," Hecker told PEOPLE. "We also did a ton of side series outer thigh work, targeting outer glutes with high reps and low weights, to pull those muscles in and create a beautiful line from the waist to the upper thigh."
Slow clap. Hecker and Robbie did a *phenomenal* job getting Robbie into the shape that she believed the role and costume called for. Hecker applauded her client for her hard work calling Robbie "a total trooper" and commenting on how "satisfying [it was] to see [Robbie's] body change into exactly what [Robbie] wanted it to look like in such a short time."
Check out Robbie and her ~amazingly~ sculpted bod in Suicide Squad, which is in theaters now!