Margot Robbie impersonated Ivanka Trump on 'SNL' and we're so grateful for it
Last night, Saturday Night Live began its 42nd season (damn, that's a long time) by mocking — what else? — the presidential election. One of the night's most notable moments came when everyone's fave, Margot Robbie, as Ivanka Trump. And yeah, it was about as good as it sounds. The Suicide Squad star totally *brought it* in her portrayal of Ivanka, and we're still giggling.
See for yourself!
https://www.youtube.com/watch?v=_1vpoYszGoE?feature=oembed
Are you not endlessly filled with giggles?! Like, OMG, Robbie, way to steal our hearts even more. 
In the sketch, the SNL cast plays off of "Family Feud," with the teams, of course, being Trump vs. Clinton.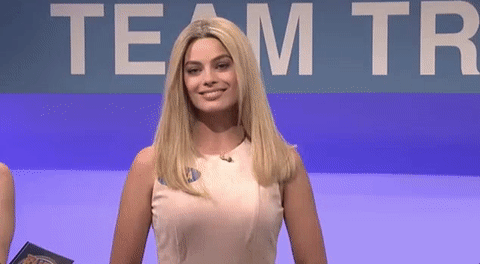 Notable characters included Sarah Silverman, Bill Clinton (obviously) and Vladimir Putin, making for a seriously nonsensical group that seriously made us LOL. It's seriously just so freakin' funny, and exactly what we need in this super stressful election season. Like, for real, guys, is this madness ever going to end?!
Margot Robbie totally, totally stole the show.
With her classically Ivanka sheath dress, blond wig, and blank stare, Robbie totally killed her portrayal of Donald Trump's daughter, making us wonder if she's got plans to do more comedy in the future. TBH, we wouldn't hate it. More Margot Robbie is always a good thing!