Why Margot Robbie felt self conscious about her body in "Suicide Squad"
We're holding our breath waiting for the new Suicide Squad movie, set to hit screens this summer. Everything about it looks amazing, especially Margot Robbie as badass Harley Quinn. However, it wasn't easy playing the legendary DC Comics villain. In a new interview with the New York Times, Robbie opens up about how playing Harley Quinn wasn't as effortless as she made it look.
Specifically, Robbie talked about feeling self-conscious in Harley Quinn's teeny tiny costumes. Harley favors hot pants, and in a scene from the newly released Suicide Squad trailer, we see her pulling on a slim fit tee over a bikini top. TBH we think Robbie looks phenomenal, but like all of us, she sometimes feels self-conscious about her body.
She tells the NYT she doesn't have a problem with Harley Quinn's wardrobe because it's about empowerment, not sexualizing her character. Harley is "wearing hot pants because they're sparkly and fun, not because she wanted guys to look at her ass." Still, she went on to add, "As Margot, no, I don't like wearing that. I'm eating burgers at lunchtime, and then you go do a scene where you're hosed down and soaking wet in a white T-shirt, it's so clingy and you're self-conscious about it."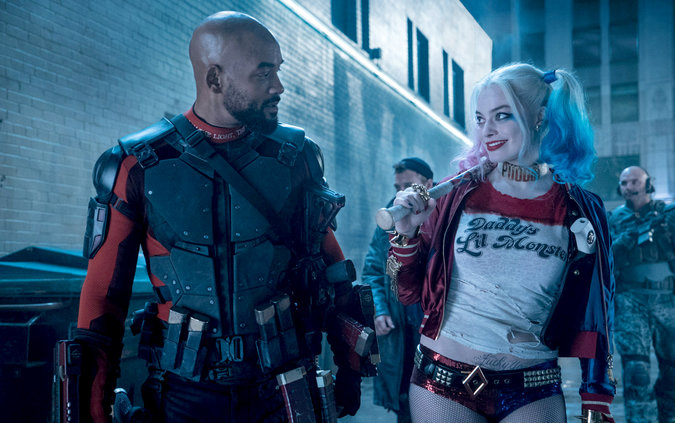 We feel you, Margot. We really do. Anyone would probably feel the same way. But we think you're gorgeous, and even more importantly, we love that you're living your best life and eating burgers if ya wanna eat burgers. Work it, girl!
Suicide Squad premieres on August 5th. We can't wait! In the meantime, we'll be watching the trailer below on repeat.
https://www.youtube.com/watch?v=MZwsbcW-d-E?rel=0