Margaret Atwood is Samira Wiley's biggest fan on Instagram, and we love this sweet friendship
We're not sure there is anyone in the world who is as excited as we are that there is going to be a series based on Margaret Atwood's famous dystopian novel, The Handmaid's Tale. But you know what's even better? Apparently, Samira Wiley (who will be playing Moira) and Atwood are good friends, which we know because Atwood is ALWAYS commenting on Wiley's Instagrams! Omg. So cute.
Wiley told New York Magazine, "Without fail, she comments on every single one of my Instagram pictures. Most of the time they're emojis. Can you imagine? Margaret Atwood just like, flower, smiley face."
It's true though, check it out: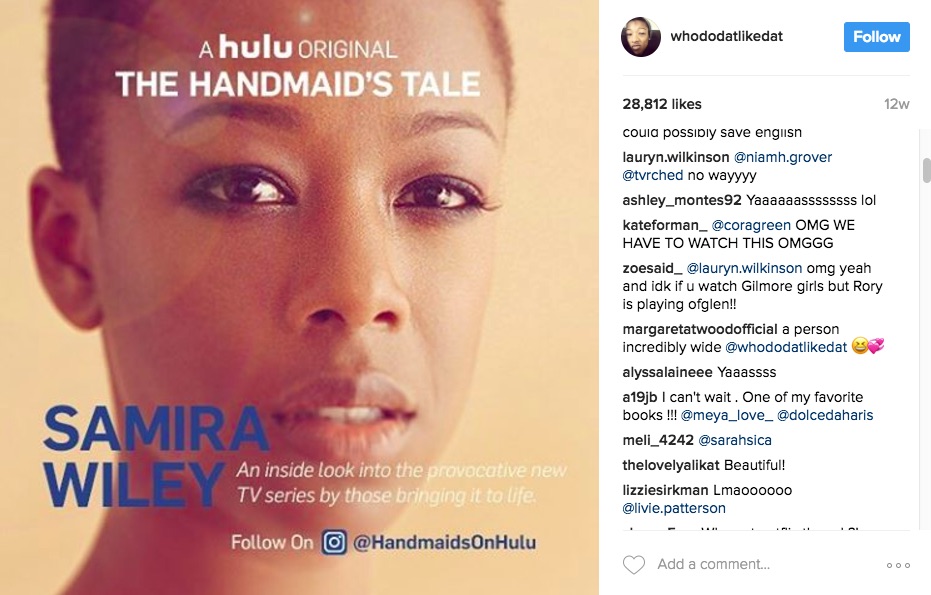 While most of the time Wiley will get a simple but thoughtful emoji, she says there was one comment in particular that melted her heart. Underneath a photo from a shoot with Out magazine with now-wife Lauren Morelli, Atwood wrote, "Perfectly Beautiful Couple".
"It made me tear up," Wiley told NY Mag, "This woman who wrote this book in 1985 is able to see that this is just two people loving each other. And it's beautiful." So precious.
We absolutely cannot wait for the series to come out. For those who haven't read the book, it's about a dystopian totalitarian society in what was formerly the United States where women are forced into sexual servitude as a last desperate attempt to repopulate the world." Yeah, it's insane. But so compelling. 
Wiley said during an interview with Cosmopolitan that this show is especially important now due to the current political climate.
"When we first started filming, we just all felt so honored to be part of the project. And then, with the people running for president we felt like, 'Oh wow, this is even more relevant.' Then after the election, it was like, 'Now we're really there.' We felt that on set."
You will be able to stream the series on Hulu starting on April 26th! Yee!