11 recipes for March Madness snacks, because we all know food is more entertaining than basketball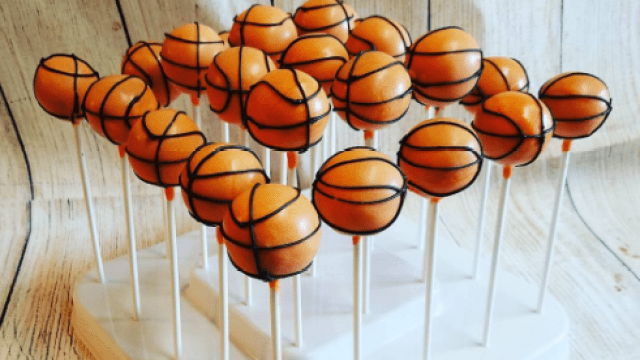 It's March Madness season, which means we're compulsively checking our brackets, psyching ourselves up, and — most importantly — scouring Instagram and YouTube for March Madness recipes.
We can't be the only ones who jump at the chance to prepare party-friendly apps and treats for large group get-togethers, and snack tutorials have become the most mesmerizing thing (alongside cookie and cake decorating videos, but more on that later) to ever grace our tiny phone screens. Regardless of your party's vibe, the food served is a big deal. From meatless buffalo wings to the most adorable jello shots on the web, we have got you and your tabletops covered!
As far as we're concerned, Superbowl is all about the half-time show and March Madness is all about the PARTY SNACKS.
First up, it's…
1Fried Pickles!
2Sweet Basketball Hoop Cupcakes
While you're prepping these adorable hoops, rely on your Crockpot for…
3Homemade Slow Cooker Chex Mix
https://www.youtube.com/watch?v=PljlHW35ymY?feature=oembed
4Jalepeno Cornbread Poppers
5Love these Basketball Cakepops?
Here's four different ways to make them: https://www.youtube.com/watch?v=7XEBTdJ67i4
To try your hand at the basketball look, just add orange food coloring to white chocolate melting wafers or hit up a baking store for pre-made orange ones to coat your pops in. Then, add a little black food coloring to the left over chocolate (or frosting), fill a ziploc bag with the melty goodness and snip off a tiiiiny corner of the bag. Pipe on the lines of a basketball (hint: it's just four easy lines, and trust us, they'll be eaten regardless of how they come out). Stick 'em in the freezer for ten minutes to set!
6The Prettiest Jell-O shots on the planet
Maybe make orange ones to fit the basketball theme? Or not. Nobody's picky about Jell-O shots.
7Potato Pops
8Veggie Cowboy Caviar
For the non-meat-eating guests (though anyone can enjoy!).
9Meatless, Boneless Buffalo "Wings"
https://www.youtube.com/watch?v=e66mhy9Qw9E?feature=oembed
Meat-lovers and vegetarians alike will go crazy for this flavor-packed finger treat.
10Meatball-Stuffed Cheesy Garlic Bread Bites
Mmmmm…our mouths are literally watering RN.
11A Variety of Easy, Cheap Gourmet Popcorns
https://www.youtube.com/watch?v=-4bXHLDGbDI?feature=oembed
People will be OBSESSED. Trust us.
Whether you're hosting or attending someone else's basketball bash, these goodies vary from super easy recipes to serious make-aheads for those with ambition in the kitchen. Bookmark your faves; friends are going to rely on you to bring the snacks for everything from annual Oscar viewings to themed birthday parties to just ordinary Friday night hangs. All hail the snack queen (or king!)!