What is the March for Our Lives Los Angeles route? Here are details you need to support gun control activists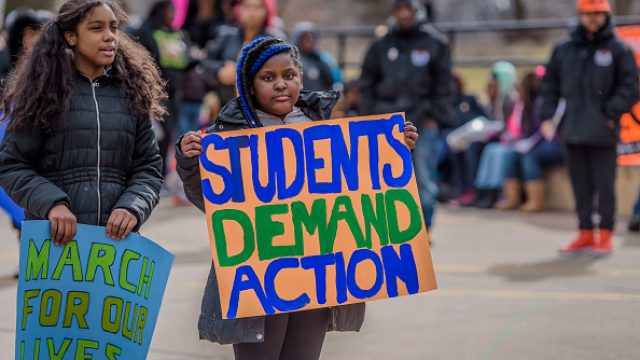 U.S. politicians' corrupt loyalty to the National Rifle Association, mass murder in schools across the country, and atrocious lack of gun control has finally brought us to this point: Students are taking to the streets on March 24th to literally march for their lives. Following the murder of 17 people at Parkland, Florida's Marjory Stoneman Douglas High School at the hands of a mass shooter who had legal access to an assault rifle, teens have emerged as leaders of the gun control revolution all over the United States.
After the profound actions of National School Walkout Day on March 14th, when thousands of students and teachers across the nation walked out of school to demand gun reform, March for Our Lives is furthering the fight. The central march is based in Washington D.C., but with at least 838 marches organized around the world, you may be wondering where to participate in your city. If you live in Southern California, here's the March for Our Lives Los Angeles route.
For those in L.A. on March 24th, head in the direction of Pershing Square in Downtown Los Angeles and meet up at 603 South Spring Street at 9 a.m. — it's a Starbucks, so you can't miss it. The exact route has not yet been released, but we know that it will take marchers through Downtown Los Angeles, stop at City Hall, and end in a large rally in Grand Park by 1 p.m.. The good thing is that you'll be surrounded by a massive crowd, so you'll for sure be able to figure out where you need to go.
If you're unable to get downtown or simply want to avoid a larger crowd, there are six cities in the Los Angeles region where you can march instead, as reported by Thrillist:  Studio City, Manhattan Beach, Long Beach, Santa Clarita, Burbank, and Santa Monica. If you plan to participate in any of these marches, check their individual event pages for start time (they're not all at 9 a.m.). You should also know that Lyft will be providing FREE RIDES to those attending the march across the country, so take advantage.
Wear a shirt to support March for Our Lives, get your sign ready, and join our youth as they demand the right to sit in homeroom without fearing death by gun violence — because that's apparently not something adults in our government can figure out on their own.
Get more information about March for Our Lives on the action's official site here.