Marc Jacobs Beauty is releasing Eye-Conic eyeshadow palettes, and *this* legendary singer debuted it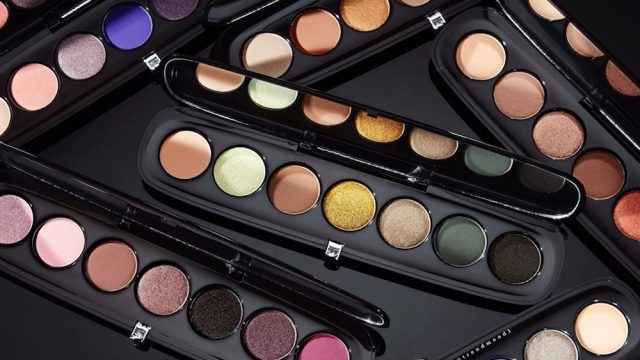 Our fave singers were out in droves looking incredibly glamorous this weekend at the Billboard Music Awards, but we can all agree that one legendary singer stole the show in every way. Not only is she fierce and ageless as ever, but Cher rocked Marc Jacobs Beauty's new Eye-Conic eyeshadow palettes, elevating her already incredible look to sky-high levels. We don't know what we're more excited about — Cher back onstage or these awesome new multi-finish eyeshadow palettes.
Everyone started to panic when Marc Jacobs Beauty announced that they were discontinuing their palettes, but this new replacement line comes as extremely heartening news, especially considering how gorgeous it is. There will be six palettes for you to choose from, so no matter what your fave color scheme is, you'll find the perfect one for yourself.
The Marc Jacobs Beauty Eye-Conic Multi-Finish Palettes will be available in July for $49 each.
Each palette has four new finishes based on Marc's favorite fabrics: Velvet, Lamé, Silk, and Satin. The lamé is a pop shade that can be added on top as a finishing touch. Each palette will be part of the permanent collection, and in keeping with Marc's vibe, all their names are beyond cool.
Provocouture, plum and pink shades; Scandalust, rusty shades; Glambition, brown shades; Edgitorial, green and gold shades; Frivoluxe, purple shades; and Smartorial, blue shades.
It doesn't get much better than that.
We can't think of a better person to debut the Marc Jacobs Beauty Eye-Conic Palettes than someone as bold and iconic as Cher.
She perfectly captures the spirit of the collection — vibrant, risk-taking, and fancy as hell.
And in case you were wondering how they achieved this look, we got all the deets from Cher's makeup artist, Gina Brooke. She used the lightest shade in the Provocouture palette for the base of the lids and then enhanced the crease using the darkest shade of the same palette. Then she used the metallic shade from Smartorial all over the lid to catch the light.
You better believe we'll be recreating this look as soon as we can get our hands on these palettes. Keep those eyes peeled come July because they're going to become one of the most highly coveted palettes in the beauty world as they debut. There's no questioning Marc Jacobs's taste level or the quality of his products, so these are definitely going to be palettes for the ages.