You should check out this map if you think you're gonna need a drink after our nightmare election
After a seemingly endless election cycle that's been the stuff of nightmares, we're just one week away from rocking the vote. If you think you're gonna need a drink on Election Day (and, really, who isn't?), there's an app for that.
The good folks at Foursquare have made a map that directs you to the bars near your polling station. And, despite my confidence that we'll finally be able to say "President Hillary Clinton" by next week, I'm still going to need a drink (or three) to calm my nerves after this election that can't end fast enough.
Using the app is simple — enter your home address and Foursquare will provide you with your polling location and a list of bars and restaurants nearby.
If you live in Pennsylvania, New Hampshire, Vermont, or Maine, you'll notice that your state isn't on the map. Don't despair! This is simply because these states haven't confirmed polling locations yet — once they do, Foursquare will be on top of it and you'll know exactly where to grab a drink after casting your ballot.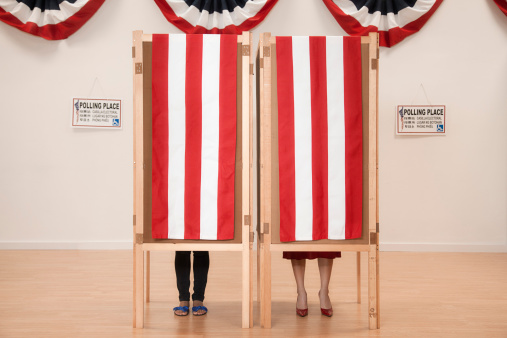 Foursquare has also confirmed that traffic is down about 16% at Trump hotels, casinos, and golf clubs this year, according to The Huffington Post. That's a positive sign, right?
Just be sure to pace yourself on November 8th — we won't have an official winner until well into the night and, when the news finally comes in, it'll be time to break out the celebratory champagne and raise a glass to Madam President.