The truck crash in New York City is officially being called an "act of terror"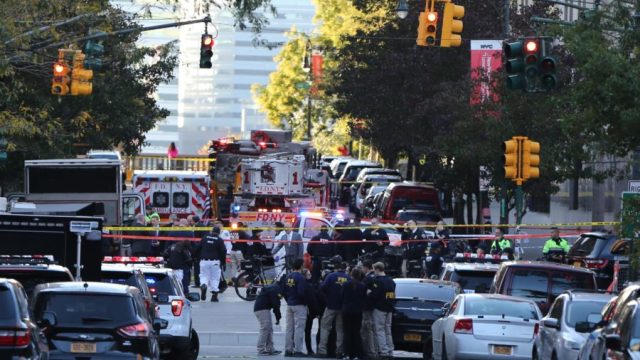 Yesterday afternoon, eight people were killed and nearly a dozen more injured when a truck drove into a busy bike path in lower Manhattan, and now officials are confirming a note found near the truck claims relation to ISIS, according to reports.
New York Mayor Bill de Blasio called it an "act of terror" in a press briefing, saying, "This was an act of terror, and a particularly cowardly act of terror, aimed at innocent civilians, aimed at people going about their lives, who had no idea what was about to hit them."
President Donald Trump also expressly called it a terrorist attack in a series of tweets, writing, "Law enforcement is following this closely." He also called the suspect, 29-year-old Sayfullo Habibullaevic Saipov, a "very sick and deranged person," adding, "We must not allow ISIS to return, or enter, our country after defeating them in the Middle East and elsewhere."
The suspect, who was born in Uzbekistan but has reportedly lived in the U.S. since 2010, used a rented truck from Home Depot to drive into a bike path along the West Side Highway, allegedly shouting  "Allahu Akbar" — which means, "God is Great" in Arabic — during the attack.
https://twitter.com/udfredirect/status/925474979914887168
https://twitter.com/udfredirect/status/925490503218589696
https://twitter.com/udfredirect/status/925497025386500096
Officials are looking into the suspect's background and relationship to ISIS, and we expect more information will be released as the day goes on. Our hearts are currently with the victims of the tragedy and their loved ones.