Mandy Moore officially announced her first album in 11 years—and gifted us a new song while we wait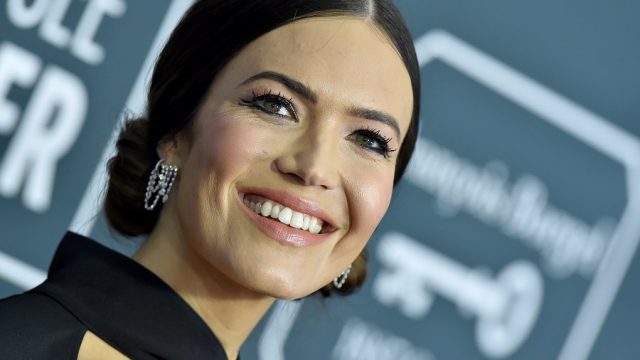 If patience is a virtue, Mandy Moore fans are basically angels. Yesterday, January 14th, the singer announced the March 6th release date for Silver Landings, her first studio album since 2009's Amanda Leigh. That's 11 years, if you're counting. And based on her gorgeous new single, "Save a Little For Yourself," the wait will be worth it.
In addition to being a truly irresistible folk-tinged bop, "Save a Little For Yourself" is a deeply meaningful lesson about maintaining agency, independence, and self-love in romantic relationships. It feels particularly pertinent, given how Moore has opened up about her "unhealthy" and emotionally abusive relationship with ex-husband, Ryan Adams. It was a marriage wherein she said she lost her sense of self. Moore sings in the chorus:
"Save a little for yourself, never give it all away / Save a little for some help, you know you're gonna need someday / You've got a lotta love, enough to go round / Save a little for yourself."
Moore opened up about what the single means to her, according to Billboard:
"Sure, we should open ourselves up, let people in and love them as wholly as possible, but none of that carries any water if we're not taking care of ourselves first and foremost. It might not be as romantic, but it's an equally important part of the equation.
Um, can Mandy Moore be our therapist?
The album will feature nine additional tracks, including previously released singles "I'd Rather Lose" and "When I Wasn't Watching." And although we haven't heard it yet, we do know that the album's title track was the final song Moore recorded, and it's representative of the end of a journey in more ways than one.
The song "became emblematic of the journey she's been through in the past decade, what it took to get to the point of re-embracing this part of her life, and the expectations therein," the album's press release states.
Moore kicks off her North American tour at the Benedum Center for the Performing Arts in Pittsburgh on March 20th. Before then, she's holding a four-date residency at Los Angeles's Bootleg Theater, which starts on January 18th. Until then, we'll be watching the dreamy music video for "Save a Little For Yourself" on repeat.