Mandy Moore gave a surprise performance of her song from 2002's A Walk to Remember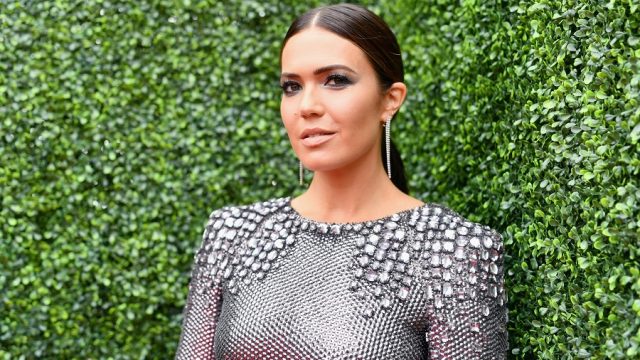 We're always grateful when Mandy Moore blesses us with social media throwbacks because she has been one of our faves ever since her "Candy" days, all the way back in 1999. But her latest nostalgic moment just might be the best yet. She performed "Only Hope" from A Walk to Remember on Instagram, and it's truly hitting us right in the feels.
Moore and her husband, Taylor Goldsmith, took to Instagram Live to perform a few songs for fans from their living room. And Moore surprised pretty much every viewer when they sang a duet of "Only Hope," with Goldsmith on guitar. Of course, fans of the 2002 tearjerker will remember it as the powerful ballad that Moore's character, Jamie, played for Landon (played by Shane West) at the school play.
While the movie is 18 years old, we won't spoil the ending. But suffice it to say that the tragic love story still shatters us into a million pieces to this day.
A fan captured the performance and shared it on Twitter. And we straight-up got goosebumps at her 2020 version of the song.
Originally, Moore's 2002 "Only Hope" was a cover of a 1999 song by Switchfoot that she sang for the movie's soundtrack.
We weren't the only ones either. Twitter is in its feelings.
Over the years, Moore has shared that she has fond memories from the film adaptation of Nicholas Sparks' novel about a star-crossed young couple. Not only is the This Is Us star still close with her costar West (which might just be the cutest thing ever) but, back in 2017, she opened up a bit more about her experience on set.
She told Entertainment Weekly, "Shane was so wonderful…I felt incredibly lucky right off the bat that I had someone who was as willing to work with me and who was patient and understanding. He was just the perfect partner for that."
Oof, our hearts.
Because Moore has been doing regular Instagram concerts during her time in quarantine, would it be too much to ask for her to keep this throwback train going? A stripped-down guitar version of "Candy" is everything we've ever wanted. Hear our calls, Mandy!