Mandy Moore Opened Up About Why She Was "Hesitant to Believe" Her Pregnancy Was Real
"I sort of was holding my breath until 12 weeks."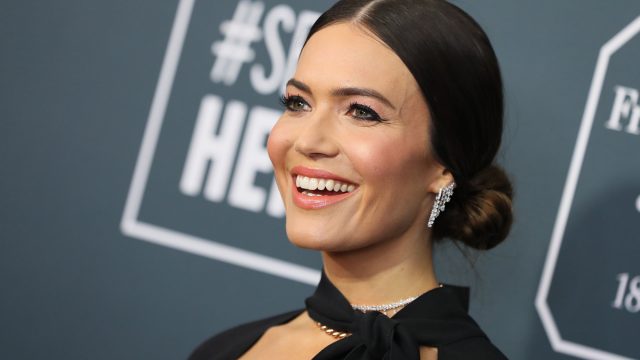 Mandy Moore has conquered the singing world, the acting world, and now she's gearing up to enter a new world: motherhood. The This Is Us actress is due in the upcoming weeks, and is expecting a baby boy with her husband of two years, Taylor Goldsmith, the lead singer of Dawes. While the pregnancy itself has been a whirlwind for Moore, she explained in a recent cover story for Romper that getting to the place where she and her husband are today wasn't easy.
After unsuccessfully trying to conceive naturally, the 36-year-old actress decided to undergo ovulation tests and consult a fertility specialist. It was then that Moore learned she might have endometriosis. "I was fully prepared to go have surgery and fix my uterus and hopefully get rid of the endometriosis, if it was there," she continued. "It was nice to have a plan and to know, OK, well, this is why I haven't been pregnant yet."
It was a matter of luck, or rather, destiny, that prior to her surgery, she was ovulating. Per her fertility doctor's optimism and slight nudge, Moore tried one more time. The result? A positive pregnancy test.
"I guess I understand why doctors tell you, like, 'Oh, just try for a year, and then if nothing happens, you can start sort of investigating.' But I was like, man, I wish I had known before. It would have been a game changer had I had that information."
Moore is among a long list of women who've been outspoken about their struggles with fertility and endometriosis. Just in recent years, Halsey, Amy Schumer, and Emma Roberts have come forward with their own stories, showing other women that it is still possible to conceive a healthy baby, and more importantly, that these women aren't alone.
Because of this issue with my uterus, I was very hesitant to believe it and put any stock in it. I sort of was holding my breath until 12 weeks, Moore recalled.
The countdown until baby's arrival is getting real for Moore, but she's eagerly excited to raise an intelligent, feminist, loving, compassionate young man.
"The little things kind of get me," the mom-to-be remarked. "Like, I was online buying pacifiers yesterday and I just turned to my husband and I was like, 'It's real.' There's going to be a little human that needs a pacifier."
Emily is a NYC-based freelance entertainment and lifestyle writer — though, she'll never pass up the opportunity to talk about women's health and sports (she thrives during the Olympics).
Read more