Mandy Moore found out about her Golden Globe nomination from Milo Ventimiglia and they're just the cutest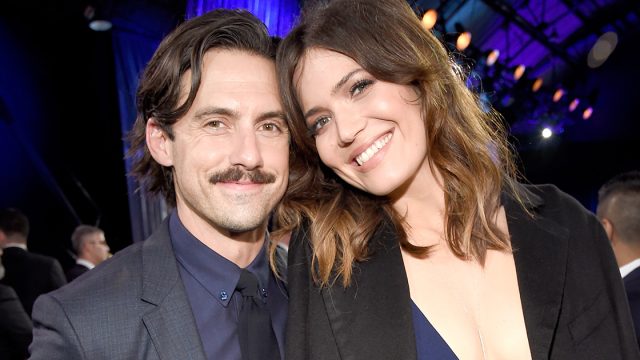 We couldn't be happier that This is Us has been nominated for a Golden Globe given that it's our new fave TV show, and the way that Mandy Moore found out she had been nominated is hitting us right in the feels.
Yesterday's (December 12th) 2017 Golden Globe nominations revealed that This is Us had picked up THREE nominations, one for Best Television Series and two for Best Supporting Actress (Television), one for Mandy Moore and Chrissy Metz respectively.
While Milo Ventimiglia wasn't nominated (WAH!?), the Gilmore Girls star did have the cutest and most supportive things to say about his co-stars getting nominated. false
In fact, Mandy Moore has revealed how it was actually Milo that told her she'd been nominated and they're just the cutest ever.
Speaking to Entertainment Weekly, Mandy told how she found out about her nomination.
"My boyfriend [Dawes lead singer Taylor Goldsmith] was getting ready to go to the airport so he was up around 5:15 and I just woke up with him and my phone lit up shortly thereafter," Mandy recalled. "I was like, 'Oh, yeah, the Golden Globe nominations,' but I certainly was not expecting to be recognized for the show, she said. "Milo [Ventimiglia] was actually the one who texted me and was like, 'Congratulations, Mandy!' I was like, 'Wait, on what? The show got nominated?' He's like, 'No, you did!'"
SO. CUTE.
Mandy went on to say that her she was super surprised by the nomination, and that she was so happy that show got nominated, too. However, the star stated that there's no competition between her and co-star Chrissy Metz, who is nominated in the same category.
"Chrissy Metz is just on another level. She is an exceptional woman and actress and her heart and her humor. I'm thrilled to be able to share this little journey with her for the next couple weeks and we get to go through it together."
Ultimately, Mandy said, she was just excited to hang out with all her friends again at an awards bash.
"It's such a good group and we don't get to hang out as a group together as much as we would all like," she said.
Okay, we're 100% convinced that the cast of This is Us might just be the sweetest and kindest group of humans in the world. We love that they totally support each other 100% of the time, but also that they seem to get on so well and obviously really like each other. Perhaps it's this chemistry that has helped the show become the breakout network TV moment of the year.
Any which way the Golden Globes pan out, we're so happy for everyone nominated!