Mandy Moore's first headshot shows just how much the actress has changed over the years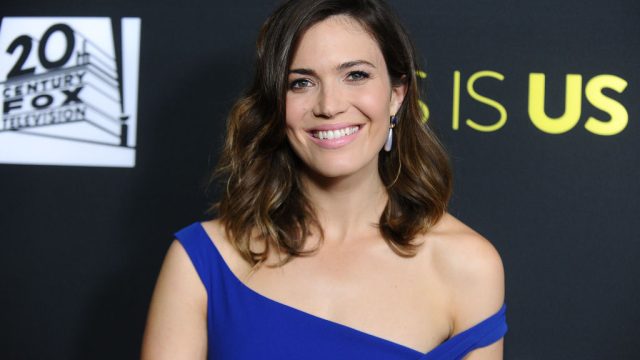 Mandy Moore has been a notable part of the pop culture landscape since her song "Candy" hit the airwaves nearly 20 years ago, in 1999. But Mandy Moore's first headshot, which she shared on Instagram on June 23rd, shows that she was an entertainer even before then. Thanks to her lasting stardom, it feels like we've known her forever, and Moore's latest Instagram post is bringing us back to the days when she wasn't famous — in the most adorable way ever.
If you don't already follow Moore on Instagram, you probably should. The singer and actress never shies away from sharing a #TBT or #FBF — and why would she? She's as adorable then as she is gorgeous now.
Although, Moore's #FBF photo of her first headshot does show that there were questionable hair choices in her past (something we ALL can relate to), since she wrote:
"Don't let anyone tell you otherwise; permed bangs are always a good idea. #fbf #firstheadshot
Those bangs have made an appearance on Moore's Instagram before since, in a previous post, she explained how:
"For some inexplicable reason, my mom let me perm and temporarily color (!) my hair when I was 10. Permed bangs? MOM.
Frankly, she has blamed her mom a lot for her unfortunate '90s bangs on Instagram.
But beyond the fabulously '90s hair in her first headshot, we'd also like to note that, back in the day, Moore was apparently going by the name "Amanda Moore" — as can be seen in the bottom right of the headshot. While we can't imagine the beloved actress who plays Rebecca Pearson from This Is Us going by any name other than "Mandy," sticking with Amanda may have been helpful this past year when people were real confused over who choreographed La La Land. (It was the other famous Mandy Moore.)
But the bridge for "Candy" would have been all wrong if she had to say, "I'll be forever yours/Love always, Amanda."
https://www.youtube.com/watch?v=NkVsJGl5d6E?feature=oembed
We love reflecting on how far Moore has come — being in a hit TV show, getting nominated for a Golden Globe, voicing a Disney princess — from her early fresh-faced days before she toured with *NSYNC and Backstreet Boys and became a pop icon.
Mandy also explained that the recent nostalgia posts actually stem from the fact that her parents' house suffered a flood, which led her to inherit many photos from her childhood. So she's now posting even more photos from her childhood than ever before.
While we're sad to hear about Moore's parents' house, we're pretty happy that she's been making the most of it with #TBTs and #FBFs galore. Keep those old school photos coming, Amanda!