Mandy Moore is producing a TV show about her music career, and it's like sugar to our hearts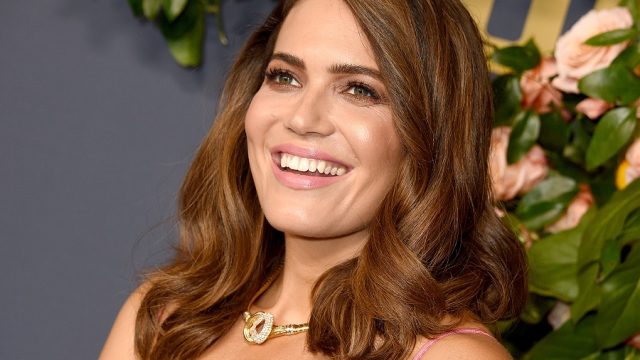 If we tried to write a list of all the things we love about Mandy Moore, it would be infinite. But let's start with the big ones: She's a pop icon (who is releasing new music after a decade!). She's the star of cult-classic movies like A Walk to Remember and Saved! (and The Princess Diaries and Because I Said So, and…you get the idea). And she's a 2019 Emmy nominee for her performance as Rebecca Pearson on This Is Us, which has us sobbing on the weekly. Now, she can add TV executive producer to her list of accolades.
According to Deadline, Moore has signed on as executive producer for a musical-drama with the working title 90s Popstar. The move makes total sense, considering the ABC property is based on her own life.
"Written by [Amanda] Lasher [best known for writing on The Bold Type] 90s Popstar revolves around a family from small-town Florida who must adapt to their extraordinary new reality when their teenage daughter goes from aspiring singer to pop superstar practically overnight," Deadline reports.
Even better, this show reunites Moore with her This Is Us showrunners Isaac Aptaker and Elizabeth Berger.
Need a brief refresher on what made America (and beyond) fall for Mandy in the '90s? Here's the deal: Her first album, Candy, propelled her to the top of the charts in 1999, around the same time as pop dynamos Britney Spears, Christina Aguilera, NSYNC, and The Backstreet Boys. Her second album came a year later with the single "I Wanna Be With You," and she continued to release music until 2009. Moore cites her controlling relationship with then-husband Ryan Adams as the reason why she stopped releasing new music.
"His controlling behavior essentially did block my ability to make new connections in the industry during a very pivotal and potentially lucrative time — my entire mid-to-late 20s," she said in an interview with Rolling Stone earlier this year, after Adams was embroiled in his own #MeToo scandal.
Thankfully, it looks like those days are far behind Moore with all of these exciting plans ahead. We can't wait for more news about 90s Popstar. Plus, Season 4 of This Is Us airs Tuesdays at 9 on NBC, and fans hope to see Moore's next album before the end of 2019. More Mandy Moore, please!