The Manduka Cyber Monday sale is almost here, and this is what we're buying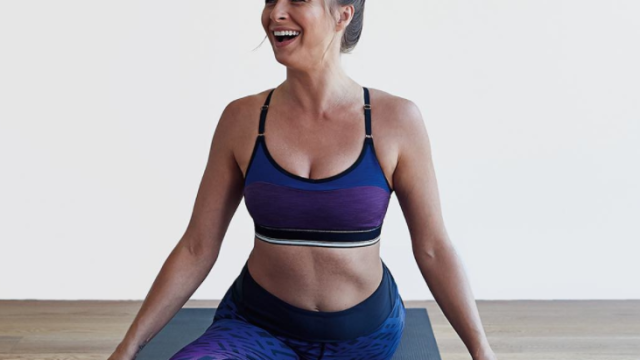 If you're anything like us, you're into all things yoga: the class, the clothes, the super zenned-out state of mind. Did we mention the clothes? Which is why we can't wait to shop the Manduka Cyber Monday sale.
Manduka is one of our favorite yoga companies. Whether you need a new mat or new apparel (read: yoga pants), it's a one-stop shop. Earlier this year, they also partnered with Yogaia to introduce the first live online interactive yoga platform in the U.S. In other words, with Manduka, you can live-stream an interactive yoga class from home, and even get real-time feedback from the instructor. So 2017, right?
With the New Year right around the corner — under 40 days away, but who's counting? — it's time to make your New Year's Resolutions. If working on your fitness is on your 2018 to-do list, you need the perfect clothes to wear, right? Right. Because when we look good, we feel good, and vice-versa. So now that all of the Black Friday shopping is out of our system, it's time for some Cyber Monday shopping with Manduka.
What will the Manduka Cyber Monday sales be like? Here's the deal: Yoga gear will be 25% off, and apparel will be a whopping 40% off. That's some seriously big savings, and we can't wait to take part. Here are some items that are on our Manduka Cyber Monday shopping list!
1New bralette and bottoms? Yes, please!
You can buy the bralette here, and the embossed leggings here.
2We love this color combo too.
You can buy the bra here, and the street-art-inspired leggings here.
3Manduka's "OM" tank is always a big hit.
You can buy it here.
4But winter is coming to certain parts of the world, so this top may be more fitting for some.
You can buy it here.
5The Manduka Cyber Monday sale isn't limited to products for women. It's the perfect time to pick out your boyfriend's Christmas presents too!
You can buy the tee here, and the shorts here.
6And, let's face it: We can ~always~ use a new yoga mat.
You can pick one out here.
Whatever Manduka items you choose on Cyber Monday, you can't — and won't — go wrong!