This man woke up from a coma and asked for what we all would: Tacos.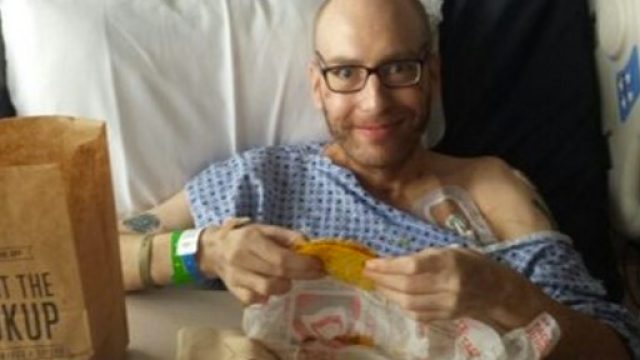 After waking up from a coma, Jake Booth wanted one thing: Taco Bell. And that's exactly what he got.
The 35-year-old Army veteran and former deputy from Collier County, Florida came down with a case of bronchitis and was prescribed antibiotics. But he stopped taking his antibiotics a few days early, and the bronchitis turned into double pneumonia. While he was hospitalized for treatment, he went into cardiac arrest and fell into a coma for over a month.
His family didn't know if he'd have severe memory loss when he woke up… or if he'd ever wake up. Naturally, they were terrified.
Booth shocked his family and his doctors when he woke up more than five weeks into the coma and knew exactly where he was and recognized his 6-year-old daughter. And he specifically remembered his love of tacos, because "I want Taco Bell" was the first thing he said after waking up, according to USA Today.
"He actually said, out loud, 'I want Taco Bell,'" Booth's brother Jason Schwartz told USA Today. "That was the very first thing he said… When he starts getting into a full sentence, he can't do it. But when he does one or two words at a time, you can definitely understand him. So when he asked for Taco Bell almost immediately, his fried Tyler definitely heard him say 'Taco Bell.' Tyler said, 'Do you want Taco Bell?' And Jake said, 'Yes.'"
Unfortunately, Booth couldn't eat solid foods for another 22 days. But once doctors cleared him, his family brought him his tacos — eight and a half crunchy tacos, to be exact.
Booth's friend Tyler Chronister shared a photo of him eating the tacos, because it was a sight so many people had been waiting to see for a very long time.View post on imgur.com
"My friend Jake woke from a 42-day coma a few weeks ago. Relearning his speech, he made it VERY clear since he woke that he wants Taco Bell but has been unable to eat yet," the caption reads. "I have never seen true happiness until now."
"We'd all been waiting an entire month for him to eat those tacos," Schwartz said. "It was symbolic of the entire thing — more of a metaphor of him having woken up and being given a second chance at life."
NowThis put together a video about Booth and his story, and it, along with the photo of Booth eating his tacos, have since gone viral. Because of course they have.
Schwartz started a website and a Facebook page to keep family, friends and supporters up-to-date on his brother's recovery. He also created a GoFundMe page with the hope of raising $50,000 to help Booth and his wife Jasmine pay the extensive hospital expenses incurred.
Even Taco Bell got wind of the story and sent over some gear:
We hope Booth continues to heal so he can live a full, happy life with his family, friends and tacos by his side.