This man got kicked off Yelp for posting the funniest reviews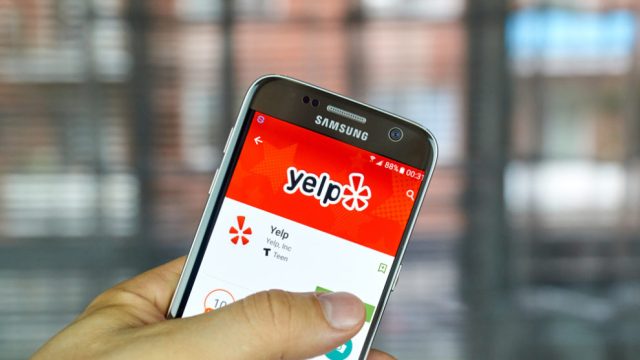 Chances are, you've used Yelp at some point in your life, whether you're looking for a good restaurant or a new hair stylist. You've also probably written a Yelp review, good or bad. After all, the reviews are key when we're looking for the above. But on Twitter, one man shared he was kicked off Yelp because of what he was writing. And, though we kind of get it, his Yelp reviews are actually hilarious.
Chris Stephens, aka @ChrisStephensMD, is the man in question. And, believe it or not, he's not the first person who's been kicked off the app. This woman, Natalie W., got kicked off Yelp last year, too, after posting a bunch of reviews of her dates, reported Mashable.
But without further ado, here's Stephens' tweet about his one-year anniversary of getting kicked off Yelp.
According to Yelp's website, once an account is closed, the reviews and content go along with it. But in Stephens' tweet, you can get an idea about the funny things he used to write.
Food tasting like toothpaste seemed to be a running theme.
"This place STINKS," he wrote about McDonald's. "Such a bummer, I was so excited for it too! I woke up, brushed my teeth for a solid ten minutes, then rushed over. Here's the thing: everything at this McDonald's TASTES. LIKE. TOOTHPASTE. The fries, the burger, even the sodey pop! I don't know how they did it. I said to the manager, 'yo, my man... why does my food taste like toothpaste?' He apologized to me and gave me a new meal. Guess what? THAT MEAL TASTED LIKE TOOTHPASTE TOO. 1 star."
After his McDonald's fail, Stephens tried another restaurant — but met with similar results.
"People always make fun of the Olive Garden, and I never understood why. But guess what? Now I get it! The other night I brushed my teeth for about a half hour and headed over to Olive Garden for dinner. I took one bite and suddenly all the Olive Garden jokes made sense to me. EVERYTHING at this place tastes like toothpaste. It's CRAZY!!! Neverending breadsticks? Yeah that's great if you like toothpaste bread. Ugh, and the pasta? That stuff tastes just like toothpaste... I chuckled and said [to my friends,] 'If I wanted to eat toothpaste I'd just eat a tube of toothpaste!' They said 'huh?' One star for this place.
And it continues a lot like that, each one more iconic than the last. But we weren't the only ones who loved his wild reviews.
Twitter was obsessed with Stephens' tweet.
And some gave him honest advice. LOL!
BTW, according to his Twitter bio, Stephens lives in LA and is one-half of a sketch comedy group. So, it makes perfect sense that his Yelp reviews had us in tears. Hopefully, food and drinks have been tasting better to him ever since!