A 68-year-old man just found a forgotten lottery ticket in his shirt pocket, and it was worth a cool $24 million
Almost everyone dreams of winning the lottery at some point. Even if they don't buy a ticket, they still envision what they'll do with the money. (Admit it!) It's never too late to win, either — a man just won $24 million after finding a forgotten lottery ticket in his shirt pocket.
The lucky lottery ticket winner is Jimmie Smith from East Orange, New Jersey. And the thing is, he wasn't even wearing the shirt when he found the ticket in it. Instead, it was one that was hanging in his closet.
So if you've gone through your pockets and purses before looking for spare change or forgotten money, you can probably relate.
The kicker to the story? Aside from the $24 million, of course? Smith bought the winning ticket back in May of 2016 but did not claim it until a year later. According to the New York Lottery, Smith checked his ticket just TWO DAYS before the one-year deadline to claim the winnings.
Here's Smith in all his winning glory.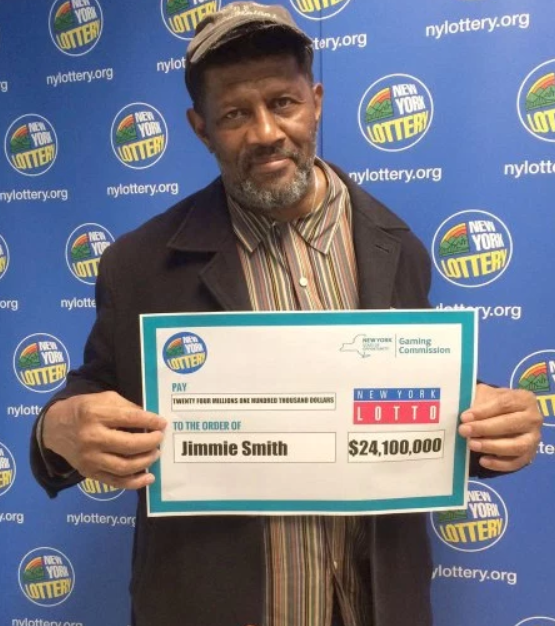 We commend him for going through that shirt pocket!
Can you imagine how you'd feel if you found the winning ticket AFTER the one-year deadline?!
A news segment urged Smith to check his lottery ticket in the first place. Well, tickets, actually.
"I ended up with a stack; a pile of tickets, including the one they were talking about on the news," he said, according to the NY Lottery. "I stood there for a minute thinking, 'Do I see what I think I see?' I had to stick my head out of the window and breathe in some fresh air. I was in serious doubt. I really had to convince myself this was real."
Smith started buying lottery tickets back in the 1960s in both New Jersey and New York, but he wasn't the kind of person to check his numbers immediately. In case you're curious, his winning numbers were: 05-12-13-22-25-35.
How will the $24,100,000 be parsed out to Smith? He'll get it in payments over 26 years.
Smith is a retired security guard, as well as a father of two and grandfather of 12. He said he'll have an "all-family discussion" about the winnings once things settle down. If he needs any ideas, we'd be happy to give him some! Meanwhile, we'll continue dreaming about what ~we'd~ do if we won the lottery…