A man has died at Burning Man, and the whole situation is so upsetting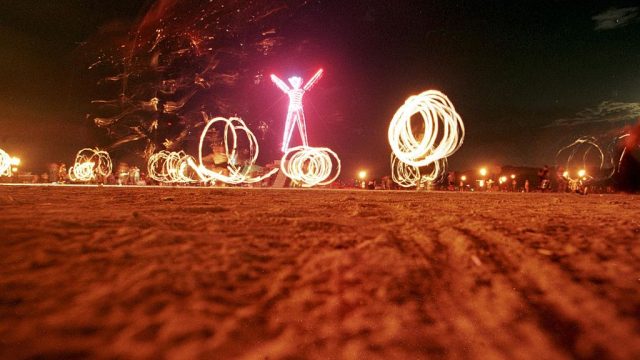 In a sad and extremely tragic turn of events, someone has actually died at Burning Man, and the story is so upsetting. A series of photos documented on TMZ (warning: they are really intense) shows an attendee crossing a ring of security officers to run into the actual Burning Man effigy that marks the biggest event of the weekend. A statement by the art and music festival's organizers has been released in the wake of guest Aaron Joel Mitchell's death that calls for people to come together, be safe, and to respect the loss of life. Mitchell died on Sunday from injuries sustained from Saturday night's events.
"Now is a time for closeness, contact and community," reads a statement from Burning Man organizers. "Trauma needs processing."
In a report of events, the 41-year-old broke through security lines at the Nevada festival and began running toward the titular blazing figure. After making contact, he was pulled from the fire by Black Rock City fire personnel, treated on scene, transported to the on-site medical facility, before being airlifted to UC Davis Firefighters Burn Institute Regional Burn Center where he passed away. Subsequent burns, an iconic part of the festival, were canceled the day of but resumed Sunday night. Burning Man is providing resources for all those effected, from witnesses to family and friends of the deceased. Peer counseling at the ongoing festival (it continues on through Monday) is also available.
For those grieving, the festival's official statement at BurningMan.org offers links for dealing with trauma and some consoling words. Our thoughts go out to the family and loved ones of Mr. Mitchell, and we think the festival organizers say it best:
"Promote calls, hugs, self-care, check-ins, and sleep."
This is advice we all can get behind.