A man heroically scaled a building to save a child hanging from a balcony — and he was rewarded with citizenship and a job offer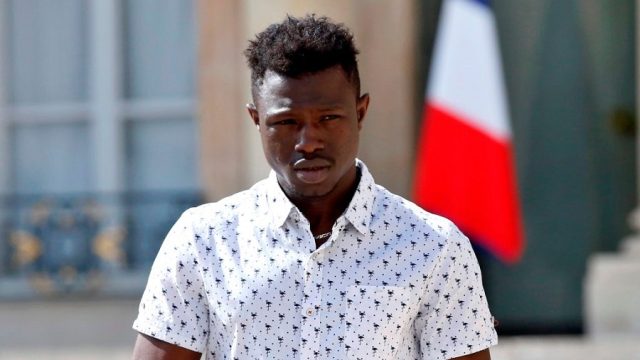 Forget The Avengers for a second — there's a real hero out there, and his name is Mamoudou Gassama. Gassama, who's 22, channeled his inner Spider-man and scaled a building to save a four-year-old child who was hanging from a balcony in France. And even though he didn't expect to receive anything in return, Gassama — a Mali immigrant — was offered both French citizenship and a job for his quick thinking and heroic act.
Referred to as "le Spiderman," Gassama saved the child around 8 p.m. on Saturday, May 26th. After seeing the child in danger, he quickly jumped into action. Gassama climbed the building's balconies by hand until he was level with the child. From there, he pulled the child to safety. The whole thing happened in under 30 seconds.
"I like children, I would have hated to see him getting hurt in front of me," Gassama told CNN affiliate BFM-TV. "I ran and I looked for solutions to save him and thank God I scaled the front of the building to the balcony."
Gassama has been living in France since September 2017, and staying in the country was a goal of his. But he likely never expected that his heroic deed would grant him citizenship. Gassama is currently living in a hostel and was by the apartment complex to watch a soccer game.
A bystander took a video of Gassama saving the child, and it's something you have to see to believe.
Not only was Gassama offered citizenship — according to CNN, he was also offered a job working with the Paris fire brigade. They tweeted about his heroism and said they'd be "ready to welcome him."
CNN also clarified that neighbors from the building next door were struggling to rescue the child, but couldn't on their own. Custody has been temporarily taken away from the child's father, who was out shopping at the time of the incident.
We're so thankful that real-life superheroes like Gassama exist in the world.