Lily James takes us through Donna's whirlwind romances in this exclusive behind-the-scenes clip of Mamma Mia! Here We Go Again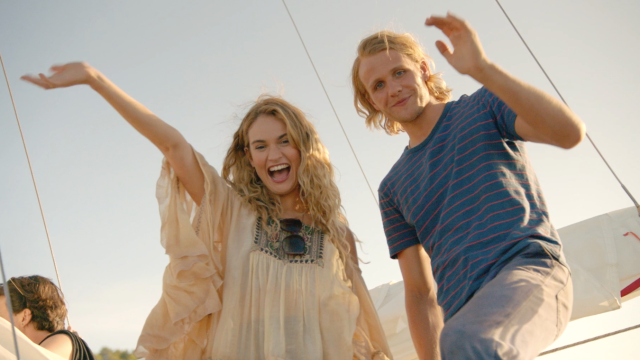 Crank up the ABBA, throw on some self tanner, and tousle those beach waves because we're headed back to Kalokairi. Mamma Mia! Here We Go Again hits theaters in a little over a week, and we couldn't be more excited.
The sequel to the 2008 musical paternity quest picks up 10 years after the first film, as the extended Sheridan clan — featuring Sophie's (Amanda Seyfried) three dads and her mother's BFFs — gathers on the Greek Island, because Sophie and Sky (Dominic Cooper) are preparing to have their first child. With Donna (Meryl Streep) conspicuously absent, it's being widely speculated that she has died and gone to movie musical heaven. But as Sophie prepares for motherhood — seemingly without her mom at her side — the film also turns back the clock, following Young Donna's own journey to motherhood.
That's right, while the first film recapped Young Donna's exploits through France and Greece with Harry, Sam, and Bill via just two musical numbers — "Honey, Honey" and "Our Last summer" — the sequel expands on that whirlwind adventure. The flashbacks in Mamma Mia 2 see Young Donna (Lily James) meet the adorable Young Harry (Hugh Skinner) in Paris, have a doomed passionate romance with Young Sam (Jeremy Irvine) in Greece, and her subsequent adventurous rebound fling with Young Bill (Josh Dylan) on a boat.
HelloGiggles has an exclusive behind-the-scenes featurette from that magical summer, and the young cast is perfect. In the clip, James, Skinner, Irvine, and Dylan open up about Young Donna's relationships with her respective suitors, and how they used Mamma Mia! to capture the essence of the characters as young twenty-somethings.
Honey, honey how we love this:
The featurette also teases new tracks from the upcoming film, including "Andante, Andante," "Why Did It Have To be Me," and "Waterloo" — which was featured during the credits of the first film. But hey, we can't escape Waterloo even if we wanted to.
Mamma Mia!: Here We Go Again hits theaters on July 20th.