Malia Obama totally nailed the "mom jeans" look for the first day of her big NYC internship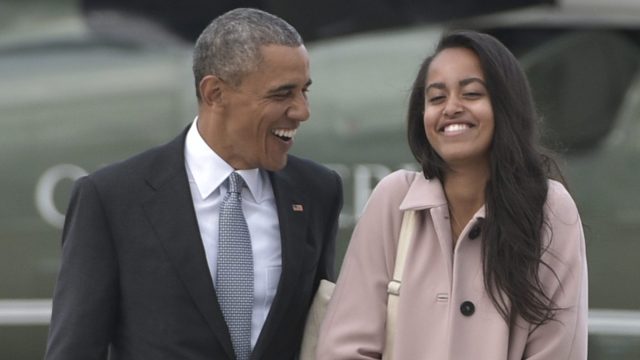 It makes all of us happy to know that the 18 year old Malia Obama is enjoying her new life as a private citizen by doing everything from attending the Kerry James Marshall exhibition at the MET to starting her internship at the Harvey Weinstein Company in NYC. But really, what makes us even happier is how perfectly Malia Obama dressed for her first day at work, totally nailing high waisted mom jeans with a shearling jacket and Timberland boots. Simple, professional (for a creative gig, obvs), and trendy.
Still keeping up with her personal style, the former first daughter wore a brown belt, black boots, a beautiful blowout, and a casual backpack over her shoulder. The light denim paired with her overall look was perfect for a first day of work and proof that the evolution of the mom jean isn't stopping any time soon. false
Move over skinny jeans, the mom jean is a look everyone can embrace. Controversial articles have noted that the jean is made specifically for a slender figure (such as Malia's) but all body's should feel comfortable wearing the stylish, 90s era, normcore aesthetic.
The New Republic said in their article, "Mom Jeans Are Back, It's About Time:"
All-cotton jeans get better with age, and you can put them in the dryer, while the stretchy stuff in skinny jeans wears out quickly and often creates weird puckers in the crotch. And unlike skinny jeans, mom jeans don't expose the precise cellular structure of the wearer's butt, which was kind of a weird thing to wear around the office anyway. Perhaps most important, mom jeans used to be sexy."
With the reemergence in fashion, these high waisted jeans are stealing everyone's hearts, from Kendall, to Bella, and Gigi. Either in a crop top or a tucked in blouse, the look and combo is endless.
As is our love for the former first daughter.