This makeup vlogger doesn't let her condition get in the way of her dreams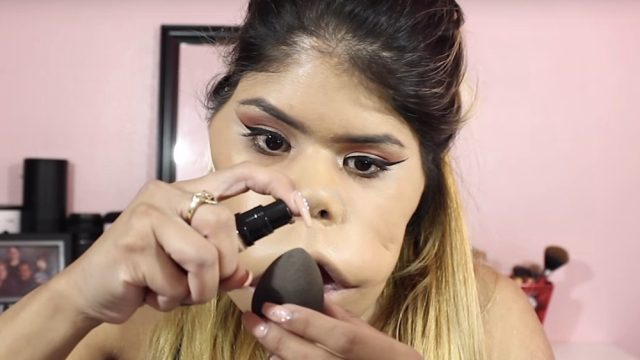 A lot of us start experimenting with makeup as pre-teens when we're desperate to hide the pimple that sprung up just before the big dance, but beauty products are far more deep than concealing a breakout. For many women and men, they can help us learn to love ourselves and instill a great sense of self-love and confidence.
And that's what makeup as done for Marimar Quiroa, a beauty vlogger who was born with a cystic hygroma — a birth defect present in her neck and mouth that requires her to breathe through a hole in her neck and use sign language to communicate.
Two years ago, Quiroa started her own YouTube channel to share her love for beauty and makeup tutorials and to help inspire others to accept what makes them unique and see the beauty in all differences.
Since then, she's grown her following to over 110,000 subscribers on YouTube with a collective total of more than 9 million views. The 21-year-old makeup guru shares her favorite products, amazing highlight and contour skills, and slays the eyeliner application in a way that make it looks so easy.
https://www.youtube.com/watch?v=TeGReg9WS1E?feature=oembed
"To me, beauty means to accept yourself for who you are, and to ignore what other people tell you," Quiroa said to Barcroft TV.
"What I like about makeup and beauty is imagining new looks, especially around the eyes, and showing people they're beautiful no matter what."
Quiroa said for the most part her online community has been really supportive and kind, but she's had her fair share of haters, too. "People tell me I look like a monkey…that my mouth is wrong," she said.
"I see them staring. I either tell them to stop or just ignore them, but if people are staring at me, I stare right back. I refuse to look away until they stop staring."
She hopes that by sharing her video and love for makeup, she can inspire others to look beyond differences and to not be afraid to reach for their dreams. The beauty vlogger is currently enrolled in makeup school and hopes to become a teacher one day to help deaf children.
"It doesn't matter how you look or how you feel about your body. Accept yourself, accept your image — that's what matters." We couldn't agree more.