This makeup artist made a VERY realistic and terrifying mask for Halloween, and we're in awe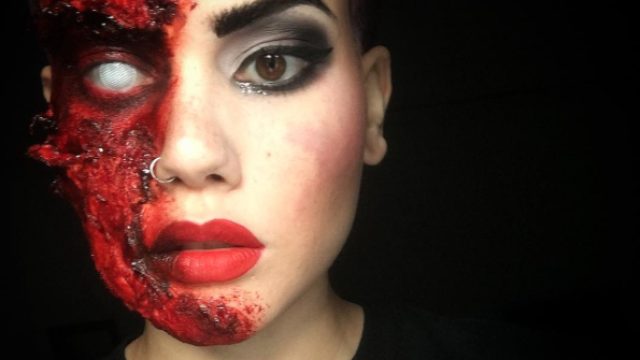 ICYMI, we *heart* Halloween. Like, a big, gooey, red, heart. And it's not just about the candy! One of our fave things about Halloween is the massive amount of creativity that takes the stage come the ~spookiest time of year~ and folks are seriously taking things to a new level this year. Like, seriously. One person you don't want to miss this Halloween-time is Ariane Valentine, a super Insta-famous creative and makeup artist who is BLOWING OUR MINDS with their incredible masks.
Hello. Look at this genius creation!
https://www.instagram.com/p/BLbZkq7hnFc
We seriously swore this was real when we first saw it. Everything about it from the texture to the color looks SO. FREAKIN'. REAL. Come on, guys. The latex look is seriously giving us *major* Halloween heart eyes.
And how could you not be wowed by this look?
https://www.instagram.com/p/BLb2MA3h8TG
It makes us want to step up our Halloween game, pronto.
With 550k views, we're not the only ones who are in total shock and awe. Ugh, teach us your ways! You can get even more ~amazing~ looks from this talented AF artist by checking them out on Youtube!