What happened when I let my phone do my makeup
Did you know that there are a number of apps out there that promise to give you believable makeovers? Yes: As in, actually apply virtual makeup to a picture of your face. It sounded too good (and fun) to be true. I decided to investigate, trying out four free makeup apps. Here's what I discovered.
App #1: Modiface MakeUp
After aligning dots (for guidelines) on your lips, eyes, and brows, Modiface allows you to do a virtual makeover by selecting from a wide range of cosmetics — foundation, eyeliner, blush, lip stick, lip gloss — in a wide choice of natural and candy color hues. There's also a "looks" feature which automatically puts you in a celeb's red carpet makeup and hair.
What I did: Applied "foundation" (which actually allows you to select from brands and shades like Make Up Forever and Jane Iredale), added orange blush (which also lets you to choose where to place it on the cheek), contoured, highlighted, put on purple mascara, blue cat eye eyeliner, red eye shadow, maroon lip liner, and lipstick.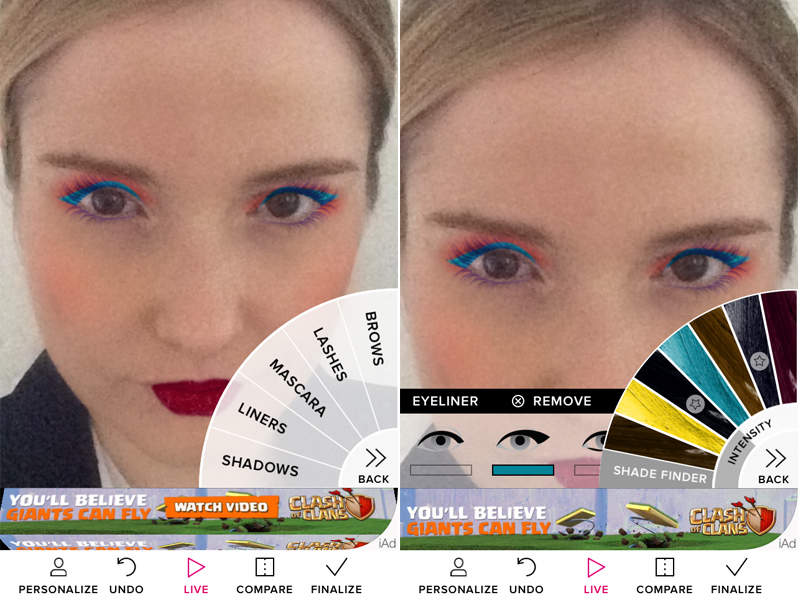 Here's my final look on the left. On the right, I tried out one of the automated looks — which was apparently a red carpet look once worn by Nicole Richie. The hair…um…couldn't quite find its way onto my head.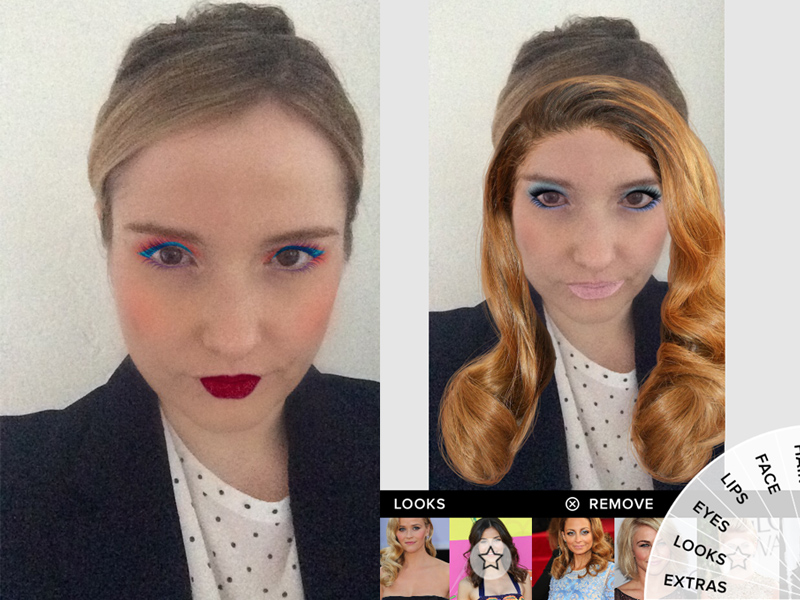 The verdict: Totally fun, but doesn't quite deliver believable results.
App #2: MakeupPlus
MakeupPlus feels a bit more high-tech, but less customizable. No need to tell the app where your eyes/brows/lips are; it automatically finds your features. It offers pre-made looks to try on, which range from celeb-inspired to natural to ultra girly with options like "PinkLady" or "Princess."
What I did: On the left, I chose the first look available, "Princess," and pumped up the "makeup" level. I was instantly wowed — my face was smoothed out, and I was suddenly sporting light blush, bright pink lips, and subtle eyeliner. On the right, I was curious to see just how natural the "Natural" filter was. You can choose from a few hue variations. I chose one at random and was also pretty impressed. This is my ideal "natural" look. I will never achieve it in real life.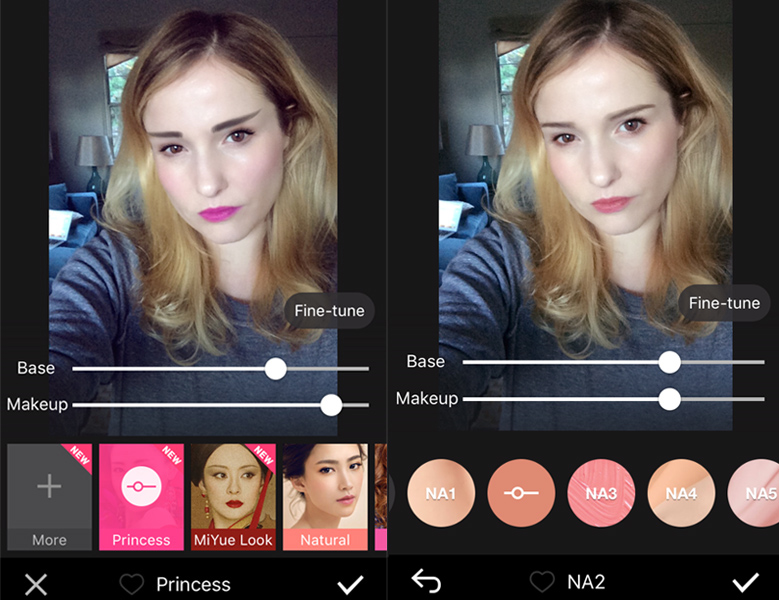 Onto the "SuperStar" filter, which offers looks with slightly cryptic names. There's "GD" (Geena Davis?), "M.M" (Marilyn Monroe?), "Lena" (Lena Dunham?), "A.H." (Anne Hathaway?), "Taylor" (Taylor Swift, I assume), and "Dita" (Von Teese, I'd imagine). On the left, I tried out "GD," and found myself painted over with a black, smoky eye, which was pretty believable (if I'd had a crazy makeover). On the right, I tried out "Dita," which looked more cartoony.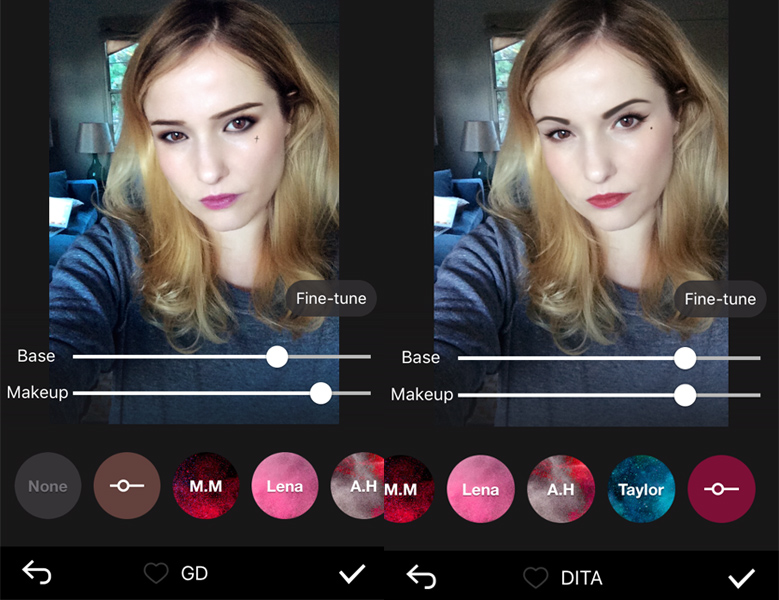 The verdict: Dangerously addictive. I could see this becoming my dirty selfie secret. I might never leave the house again and never wear makeup again and just fool everyone thanks to a FREE APP.
App #3: Loreal Makeup Genius
So, clearly the point of Makeup Genius is to promote Loreal — every look or product you try is available for purchase. The interesting thing is that this app applies makeup in real-time: You don't use a static selfie; it's like checking yourself out IRL with your camera (and makeup just appears).
What I did: Unlike the other apps, when you create your own look, Makeup Genius has no foundation/concealer option. I decided to create a look might actually wear on a night out. (Or, fine, New Year's Eve.) I added a silver shimmer eyeshadow, eyeliner and mascara, as well as a bright red lipstick. Not too bad.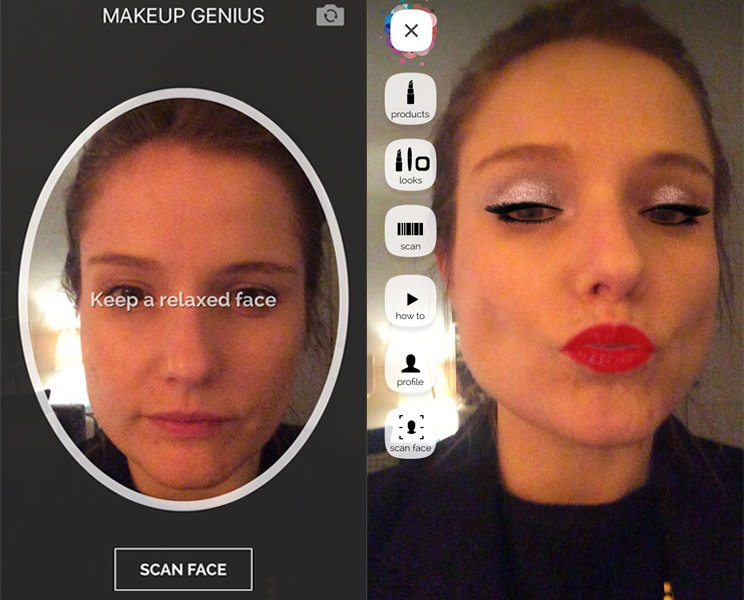 As for the pre-made looks Makeup Genius offers, I tried something called "The Butterfly Look" (below on the left), which was supposedly created by a Loreal makeup artist. The result was a bit to Edward Scissorhands-y for me. On the right, I automatically applied Naomi Watts's "Cannes Look." Simple, but I dug the liner.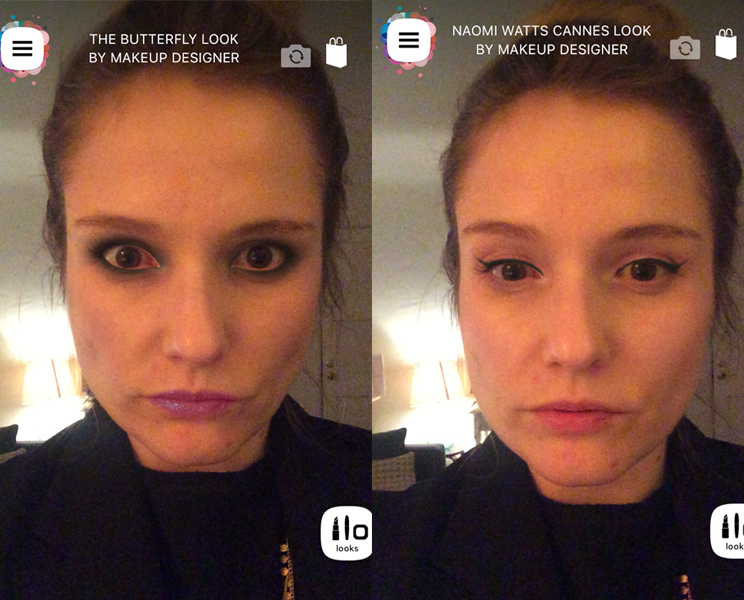 The verdict: Not very realistic. The eyeliner options were the most interesting — you could apply a variety of wing shapes. I guess this app would be good for Loreal addicts, but not necessarily for selfies or teaching yourself makeup looks.
App #4: YouCam Makeup
Similar to Modiface, YouCam lets you select exactly what to put on your face, and choose the color and intensity. They also have pre-made looks, and offer even more bells and whistles, allowing you to add hairstyles and accessories.
What I did: On the left, I tried my best to create a daytime look I'd actually wear. The result isn't 100% convincing. I put on foundation, a bit of blush, did something called "nose enhance," (IDK??), put on eyeliner, fake lashes (I tried out the "babies," because, hey, it's Tuesday), used the eye bag removal tool, and gave my eyebrows some shape and color. The final result feels like my face is flattened out. On the right, I tried one of the ready-made looks. This one is called "Alluring." Erm…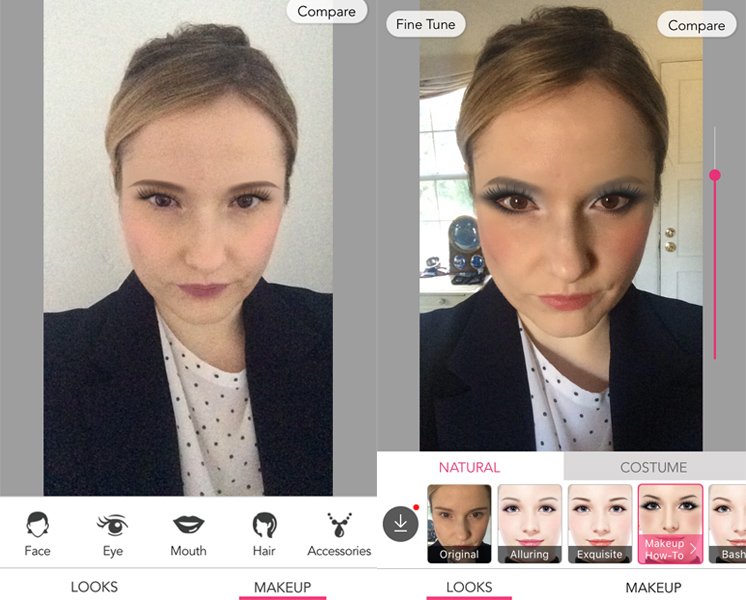 The really fun thing about YouCam is they have costume looks as well. The look on the left is called "Cleopatra." On the right, I went nuts with the customizable options, adding crazy blue eyeshadow, a new blue 'do to match, a headband, earrings and necklace. I even changed my eye color.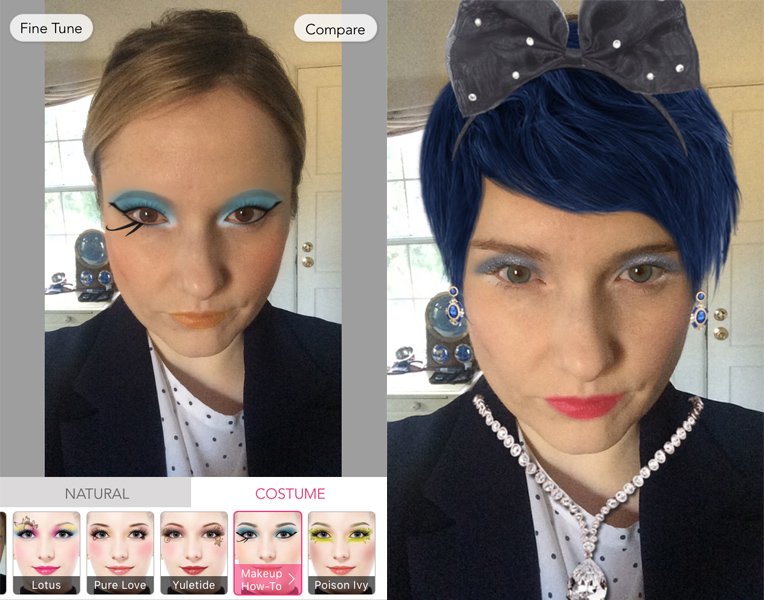 The verdict: Not the most believable app, but by far one of the most funs. Great for a laugh with friends. I used this on a pic of my dad this weekend and he loved it.