Make Up For Ever asked beauty influencers to help with their latest campaign, and we love the inspiring messages they brought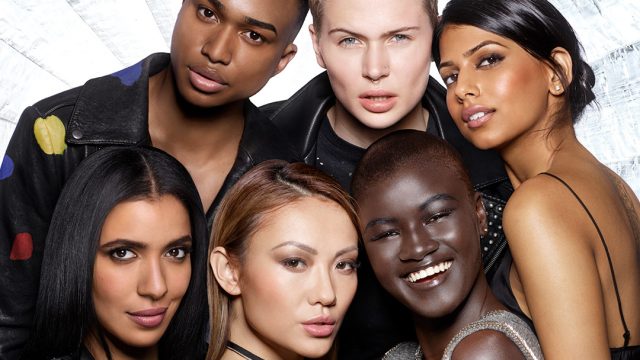 Since its launch, Make Up For Ever has been one of the most diverse beauty brands in the game. Their Ultra HD foundation is available in an impressive 40-shade range and their inclusive campaigns always know how to tug at our heartstrings.
Make Up For Ever is celebrating their inclusive brand with a new campaign involving a cast of six beauty influencers. The "Blend in. Stand Out" campaign celebrates the brand's complexion products and their amazing blendability, and the beauty of self-expression and individuality. In the campaign, each influencer was asked to share which Make Up For Ever product helps them "blend in," and which causes inspire them to stand out.
https://www.instagram.com/p/BJI6-0NjK6Y
In a campaign video for Blend In. Stand Out, Madison Paige says, "It would be easy for me to say that I'm pushing boundaries by coming out as gender fluid or coming out as gay, but I'd say nowadays the biggest boundary I'm pushing is trying to convince other people to be as honest with themselves as I am."
Khoudia Diop aka the Melanin Goddess was a victim of bullying. "I feel like I'm standing out because I realize who I am," she says, before adding:
"I feel beautiful when my makeup looks great."
Victor Ramos blends in with Ultra HD Invisible Cover Stick Foundation and stands out on a platform of universal equality. 
https://www.instagram.com/p/BOnfa-Bg53Q
TV personality Julissa Bermudez is using the campaign to promote individuality. In the vid she says, "What inspires me most about this campaign is really showcasing the diversity of beauty from all different ethnic backgrounds.
"Growing up, I actually did not have a lot of girls who looked like me to get inspired by," says style and beauty blogger Arshia Moorjani. "I really hope to be that brown girl for all my brown ladies out there."
Arshia blends in with Mat Velvet + Mattifying Foundation #70 and stands out on a platform of diversity.
https://www.instagram.com/p/BOQE1EcgOqo
Style and beauty influencer Jessica Wang stars in the campaign where she praises Make Up For Ever and self-expression. "Make Up For Ever has something for everyone and makes everyone feel unique and special, " she says.
Blend In. Stand Out. included MUAs Renny Vasquez and Priscilla Ono. "In so many ways when you look good, you feel great, enabling you to put your best self forward," says Renny. We couldn't agree more.
https://www.youtube.com/watch?v=vD9pm7PiTI4?feature=oembed
Check out the full campaign starring all six influencers with glam by Renny and Priscilla.