12 Major Movies We're Excited to See This Year
No matter your film-going taste, movie theaters will have a little something for everyone in 2023.
The movie release calendar for 2023 is absolutely packed with new films, from horror flicks to superhero sequels to high-octane action films. There are a few of these, however, that we're especially looking forward to in the coming year.
No matter your film-going taste, movie theaters will have a little something for everyone in 2023, including the return of Channing Tatum's Magic Mike and highly-anticipated big screen debut of Barbie. Whether you're looking for laughs, thrills, or gasps, this year promises a real return to the big-event blockbuster.
From Scream 6 to Dune: Part Two, here are 12 of the major movies we're looking forward to this year.
RELATED: 20 Best Date Night Movies to Watch With Your Partner
1
Magic Mike's Last Dance
Celebrate Valentine's Day a few days early with a gyrating Channing Tatum. The actor is back as dancer Magic Mike, who arrives in London to stage a show based on his strip club performances.
The sequel, which follows two prior films and a stage show, also stars Salma Hayek Pinault as a wealthy socialite who makes Mike an offer he can't refuse.
Expect elaborate, sexy dance sequences, a solid soundtrack, and, of course, a lot of Tatum shirtless.
In theaters February 10.
2
Ant-Man and the Wasp: Quantumania
Ant-Man may not be the mightiest Marvel superhero, but he's definitely the funniest. Ant-Man and the Wasp: Quantumania is the third iteration of the character, played by Paul Rudd, and this time he's up against the villain Kang the Conquerer (Jonathan Majors).
The cast also includes Evangeline Lilly, Michael Douglas, Michelle Pfeiffer, and Kathryn Newton. Notably, the film is the first in the Marvel Cinematic Universe's Phase Five, kicking off a new set of fantastic storylines.
In theaters February 17.
Ghostface has officially arrived in New York City. In the latest iteration of the Scream franchise, the masked killer heads to the Big Apple to terrorize survivors of his last murder spree.
Melissa Barrera, Jasmin Savoy Brown, Mason Gooding, Jenna Ortega, Hayden Panettiere, and Courteney Cox all reprise their roles from earlier films, while Dermot Mulroney, Henry Czerny, and Samara Weaving are new additions to the franchise.
If the first teaser trailer is any indication, this is going to be one terrifying ride.
In theaters March 10.
Nicholas Hoult plays Renfield, Dracula's hapless assistant who falls in love with a traffic cop in New Orlean. Nicolas Cage, master of campy action, is Dracula himself, while the always-funny Awkwafina is Renfield's love interest.
Expect a comedy version of the famous vampire tale that still retains the character's love of blood.
In theaters April 14.
If there's one film we're most excited for in 2023, it's Disney's live-action reimagining of The Little Mermaid. Halle Bailey embodies Ariel, a mermaid who longs for life above the water, while Melissa McCarthy plays the sea witch Ursula.
Lin-Manuel Miranda composed new music for the film, which will also feature Alan Menken's classic tunes, and if the trailer is anything to go by Bailey will be a dynamite Ariel. How cool that so many young fans will have an opportunity to see themselves onscreen.
In theaters May 26.
6
Indiana Jones and the Dial of Destiny
The fifth installment in the Indiana Jones franchise gets a little help from Phoebe Waller-Bridge. The actress and writer joins the story as the goddaughter of Indiana Jones (Harrison Ford), who helps the hero foil a new villain played by Mads Mikkelsen.
The cast also includes Antonio Banderas, John Rhys-Davies, Shaunette Renée Wilson, and Boyd Holbrook, while James Mangold takes the reins as director.
In theaters June 30.
7
Mission: Impossible – Dead Reckoning – Part One
The Mission Impossible films now basically exist as a showcase for Tom Cruise's outrageous stunts, and we wouldn't have it any other way. The newest film, which has been split into two parts, ups the ante on the action, with Cruise's IMF agent Ethan Hunt involved in a new mission.
Returning cast members include Ving Rhames, Simon Pegg, Rebecca Ferguson, and Vanessa Kirby, while Hayley Atwell, Rob Delaney, Henry Czerny, and Cary Elwes join in the fun.
The filmmakers recently released a sneak peek at one of the movie's most insane stunts, which has us excited for what's to come.
In theaters July 14.
Greta Gerwig plus Margot Robbie plus the world's most iconic doll. That's a winning combination if we've ever seen one.
The long-anticipated Barbie film, directed and co-written by Gerwig, stars Robbie as the blonde doll and Ryan Gosling as her BF Ken. Not much is known about the plot, except that Barbie is forced out into the real world and searches for true happiness.
The supporting ensemble includes Will Ferrell, Simu Liu, America Ferrera, Alexandra Shipp, Michael Cera, Issa Rae, and Kate McKinnon.
In theaters July 21.
Captain Marvel (Brie Larson) teams up with fellow female superheroes Ms. Marvel (Iman Vellani) and Monica Rambeau (Teyonah Parris) in The Marvels. The film, directed by Nia DaCosta, follows the events of Disney+ series Ms. Marvel (which is worth a watch if you haven't seen it).
Zawe Ashton also stars as the film's villain, although we don't know much about her character yet. Expect exciting action and moments of triumph for the characters, who are always stronger together.
In theaters July 28.
The journey of Timothée Chalamet's Paul Atreides continues in the sequel to 2021's Dune. After conspirators destroyed his family, he is on a path of revenge, with many hurdles in the way.
Zendaya returns as Chani, his love interest, while the already-impressive cast has expanded with Florence Pugh, Léa Seydoux, Austin Butler, and more.
The first film was a beautifully-shot adventure, with expansive world-building, so expect more of that here. And if you missed Dune: Part One, it's not too late to catch up.
In theaters November 3.
11
The Hunger Games: The Ballad of Songbirds and Snakes
In 2020, Suzanne Collins released a prequel novel to The Hunger Games, depicting an early iteration of the annual games. This film is an adaptation of the novel, with Francis Lawrence returning as director after his work on the original movie series.
Tom Blyth stars as Coriolanus Snow, a younger version of Panem's future president, while Rachel Zegler plays a tribute who connects with him during the 10th annual Hunger Games. The cast also includes Viola Davis, Peter Dinklage, Hunter Schafer, and Jason Schwartzman.
In theaters November 17.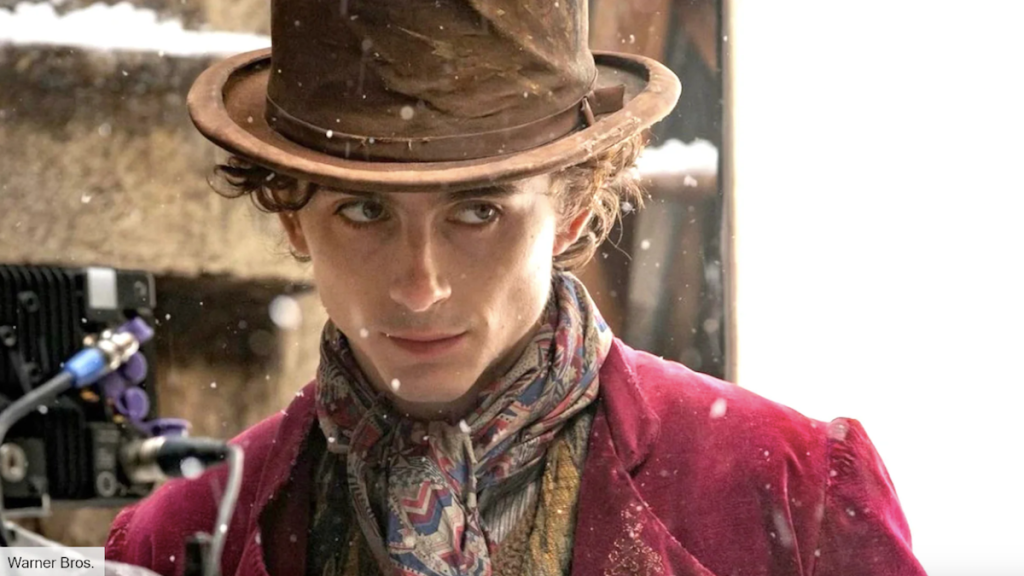 Timothée Chalamet takes on a very different role in Wonka, a prequel to Roald Dahl's Charlie and the Chocolate Factory. Chalamet plays the eccentric candy maker in his younger years, which should be hilarious campy.
Keegan-Michael Key, Sally Hawkins, Jim Carter, Matt Lucas, Natasha Rothwell, Olivia Colman, and Rowan Atkinson also star in the film, from director Paul King.
In theaters December 15.
Emily Zemler is a freelance writer and journalist based in London. She covers entertainment and travel for a variety of outlets, including Los Angeles Times, Rolling Stone, Shondaland and Observer.
Read more