Maisie Williams admitted that both she AND her mom know how "Game of Thrones" ends, because family first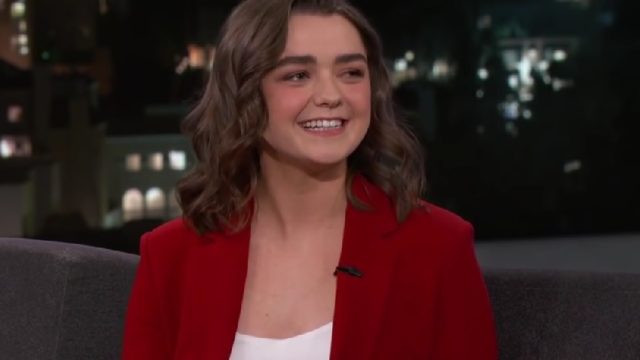 We're all gonna have to wait just a little longer to find out how Game of Thrones ends. That is unless, of course, you're Maisie Williams and her mom. While appearing on Jimmy Kimmel Live!, the actress admitted that she read the final script in bed and couldn't help but share what happened with her mama. (Which we get. After all, it's her mom.)
Williams debunked the myth that the cast would shoot different scenes to ensure that nobody knows the story's true conclusion until the finale aired. But because she's a total pro (meaning she's been tight-lipped about plot points since the show debuted back in 2011), she didn't reveal anything substantial about the long-awaited finale.
However, Williams did say that she doesn't think the show has the budget to film many different endings. When Kimmel reminded her that the information came straight from the president of HBO, Williams quipped,
"As we know, sometimes presidents don't always tell the truth."
ZING.
https://www.youtube.com/watch?v=86VjgW1wDfI?feature=oembed
"Being with this show for so long and then it also having the following that it does, everyone is just waiting for this moment and you read it…and it's incredible," she told Kimmel.
Earlier this year, HBO confirmed that the show wouldn't be coming back until 2019. Variety.com reported that the season will consist of six episodes. Her co-star, Sophie Turner, said that filming began in October.
https://www.instagram.com/p/BWikaEuARVl
We absolutely can't wait to find out how Game of Thrones ends. And we have a feeling Maisie Williams can't wait to get the weight of this giant secret off her shoulders.